By Ryan Finnerty,
Published by Flight Global, 25 September 2023
American space agency NASA is seeking to develop a new orbital vehicle that will play a key role in retiring the International Space Station (ISS).
NASA on 20 September released an industry solicitation for a platform the agency is calling the US Deorbit Vehicle (USDV) – which will be used to safely return the ageing ISS to Earth.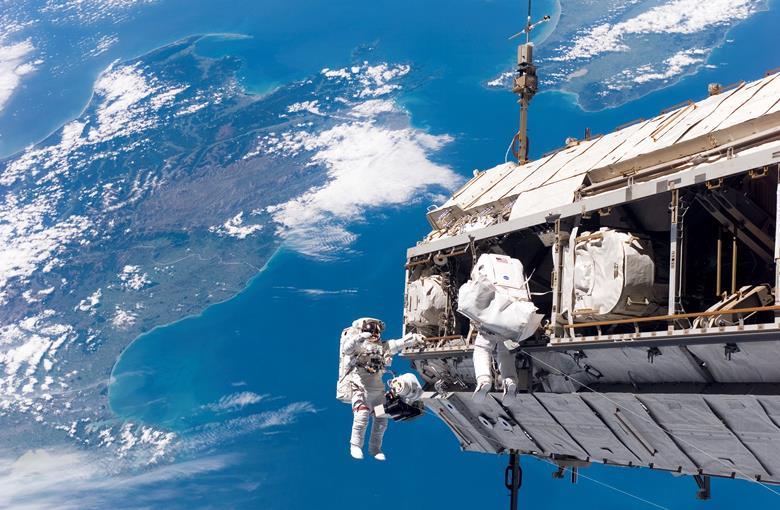 "The primary objective of this contract is to procure a safe, reliable and cost-effective de-orbit vehicle to meet NASA's ISS end-of-life de-orbit mission requirements," NASA says.
Unlike mothballed aircraft, the ISS cannot be transported to warehouse or graveyard facility for long-term storage. When the orbiting laboratory reaches the end of its life, it will crash back to Earth – ideally along a planned trajectory.
"At the conclusion of the International Space Station programme, the station will be de-orbited in a controlled manner to avoid populated areas," NASA notes.
The ISS, launched in 1998, is scheduled to be decommissioned at the end of this decade, with the USA, Canada, European Union and Japan committed to operating the ISS through 2030. Russia, a founding partner in the civil spaceflight endeavour – has committed to the ISS through 2028.
The station has been continuously occupied by astronauts since it launched 25 years ago. The technical lifetime of the ISS is limited by the primary physical structure, according to NASA. Dynamic loading from the repeated docking of spacecraft, and extreme temperature changes the station undergoes while in orbit, have contributed to degradation of the ISS structural components.
NASA says the coalition of international space agencies studied several options for safely returning the ISS to Earth and determined a new vehicle will be required.
Among other options considered was use of multiple Energia Progress uncrewed space vehicles from Russia or boosting the ISS into a so-called "graveyard orbit" farther away from Earth.
The USDV solicitation gives the US aerospace industry two months to submit proposed designs for such a platform. Prospective contractors will be required to design, develop, manufacture, test, integrate, deliver and sustain the new orbital vehicle.
"The USDV is focused on the final de-orbit activity," NASA says.
"It will be a new spacecraft design or modification to an existing spacecraft that must function on its first flight and have sufficient redundancy and anomaly recovery capability to continue the critical de-orbit burn," the agency adds.
As to how the theoretical USDV will accomplish its mission, NASA says the vehicle will "rendezvous and dock with the ISS, as well as perform ISS attitude control, ISS translational manoeuvres and the final ISS orbit shaping and re-entry burns".
While the USDV solicitation does not specify a delivery date, NASA acknowledges the programme "will take years to develop, test and certify".
Design proposals are due to the agency by 17 November. NASA says it will select a prime contractor for USDV using a "full and open" competition.
See: Original Article
---