To order/download information, latest newsletter, books, bumper stickers and T-shirts to help with your campaigning:
---
Information: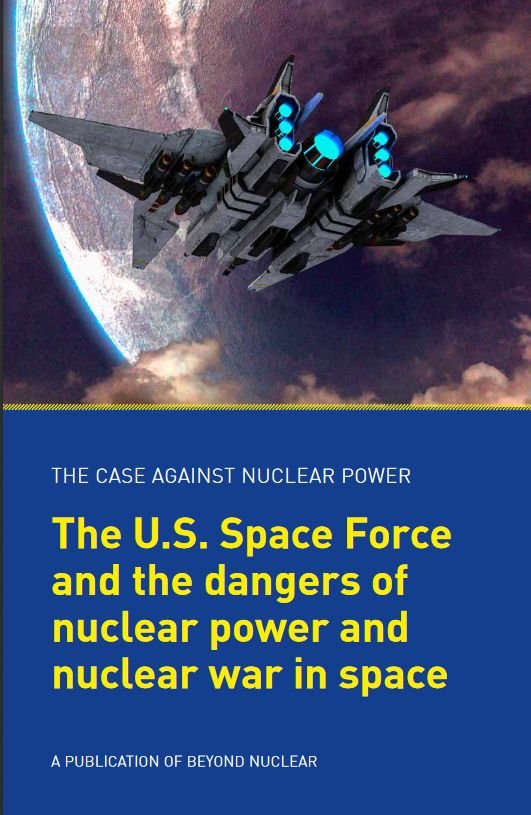 A New Booklet on Space Force from 'Beyond Nuclear'
---
Latest Newsletter:
You can order copies of our latest newsletter for local distribution. Let us know how many you'd like and please make a donation to cover mailing/printing costs. Pay what you can best afford.
---
Books:
Order a signed copy of the 2008 republished version of Bruce Gagnon's new book for $18.00 (includes s/h ….
($15.00 each for orders of 10 books or more.
Please contact the GN office for details)
---
Bumper stickers:
Pick one or more of "No Weapons in Space" or "Keep Space for Peace".
Send $2 each plus a self addressed stamped envelope to the GN today.
---
T-shirts
The Global Network "Free the Sky" T-shirt in 5 colours
(Banana Cream, Cream, Pink, White or Gray)
sells for $20 each plus (s/h)
Sizes come in S-M-L-XL-2XL-3XL-4XL
International orders can be made but with additional shipping cost

Order yours from 'Bonfire' not from us!
---
To Order all but T-shirts:
Send your check or money order to:
Global Network, PO Box 652, Brunswick, ME04011
Or
Pay just below at the Green Donate button – be sure to specify what you are ordering in the 'Note' section
and we will ship your order back to you right away
Call (207) 389-4606
globalnet@mindspring.com
if you have any questions.
---
Pay for your items or make a donation

---
---