By Jonathn Beale,
Published by the BBC, 6 October 2022
The war in Ukraine has underlined the growing importance of space to armies on the ground.
In an interview with the BBC, the head of the US Space Force, General Jay Raymond, describes it as the "first war where commercial space capabilities have really played a significant role". It's also the first major conflict in which both sides have become so reliant on space.
Gen Raymond – whose service is the newest branch of the US armed forces – avoids giving precise details of how the US and its allies have been helping Ukraine.
But he gives a clear indication of what it's been doing. "We use space to help strike with precision, we use space to provide warnings of missiles, of any threat that could come to the United States or to our allies or partners," he says.
There are already more than 5,000 satellites in space – most are operated for commercial purposes.
But among them are hundreds of dedicated military satellites – the US, Russia and China having the largest number.
Ukraine has none. But it has received significant help from the West in a number of ways.
SURVEILLANCE
The first is providing intelligence, surveillance and reconnaissance – or ISR.
Ukraine has had access to unprecedented amounts of commercial satellite imagery.
At a recent conference, the director of the US National Geospatial-Intelligence Agency said it had more than doubled the commercial imagery available over Ukraine in the run-up to the war.
Air Vice-Marshal Paul Godfrey, who heads the UK's Space Command, says that along with commercial and civilian ISR provided to Ukraine "there's an awful lot of nations with military capabilities in space – they're looking at Ukraine as well".
Space ISR helped identify the initial build-up of Russian forces before the invasion on 24 February and the movement of troops and military hardware ever since. Satellites have been used to track Russian warships in the Black Sea, including the cruiser Moskva which was sunk by Ukraine.
Early warning radar – like the giant one at RAF Fylingdales in North Yorkshire – have also been able to track the launch of ballistic missiles.
Air Vice-Marshal Godfrey says ISR satellites have also been essential for "telling the truth" about the war.
He gives the example of the massacre in Bucha, near Ukraine's capital Kyiv. He says Russian claims that the bodies of dead civilians were already on the streets when they arrived were contradicted by time-stamped satellite imagery showing otherwise.
Media organisations, including the BBC, have also had unprecedented access to commercial satellite imagery – which can be used to corroborate claims on the ground. That includes identifying mass graves or Ukraine's recent attack on a Russian airbase in Crimea, a southern Ukrainian peninsula annexed by Russia in 2014.
Early warning radar have also been able to track the launch of ballistic missiles.
The US is also now in detailed discussions about installing more giant radar in the UK to keep an eye on what's happening in space.
And recently Ukrainian volunteers have fundraised enough money to buy an entire satellite to help the country's military in detecting Russian targets.
The Sar (Synthetic Aperture Radar) satellite of the Finnish company ICEYE has proved to be extremely effective – in just the first two days of its usage the Russian military damages exceeded $16m – more that the cost of the satellite purchase, Ukrainian officials say.
COMMUNICATIONS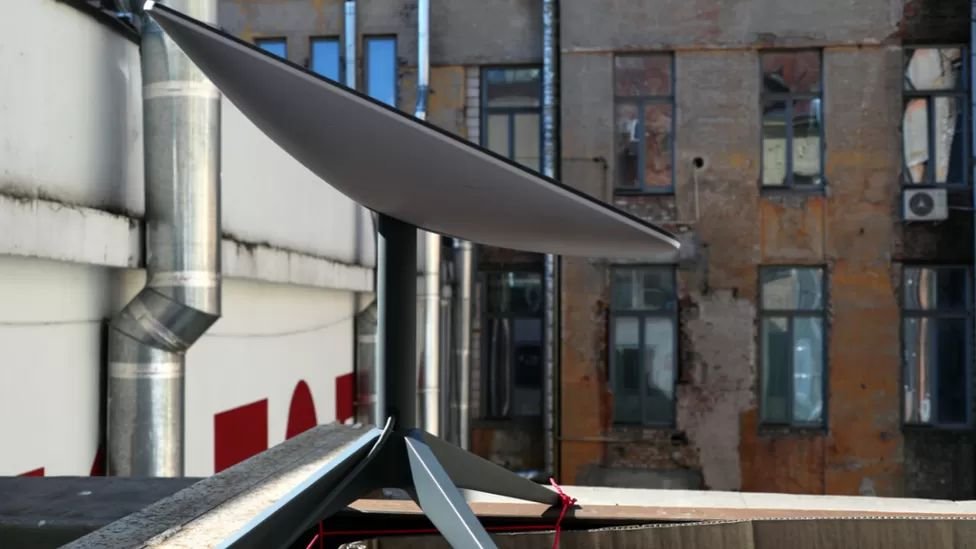 Space has also been crucial to communications throughout the war.
At the start of the war Russia conducted a series of military strikes and cyber-attacks to take out Ukraine's key communication nodes.
Air Vice-Marshal Godfrey credits Elon Musk with "essentially getting the internet back up and running in Ukraine" – helped by an appeal on Twitter by the Ukrainian Minister of Digital Transformation, Mykhailo Fedorov.
@elonmusk, while you try to colonize Mars — Russia try to occupy Ukraine! While your rockets successfully land from space — Russian rockets attack Ukrainian civil people! We ask you to provide Ukraine with Starlink stations and to address sane Russians to stand.

— Mykhailo Fedorov (@FedorovMykhailo) February 26, 2022
Elon Musk has sent thousands of Starlink internet kits to Ukraine giving access to SpaceX's constellation of satellites in orbit.
They've been essential to providing Ukraine's military with secure communications and situational awareness throughout the war. I've seen them being used from Ukrainian command bunkers in the country's eastern Donbas region.
PRECISION WEAPONS
Both Russia, and more recently Ukraine, have been relying on space-based positioning, navigation and timing (PNT) to conduct precision strikes on key targets, with Russia's cruise missiles using its own Glonass positioning satellites to find their targets.
For Ukraine, the addition of US-supplied precision weapons to its arsenal have been key to its recent advances.
Himars rockets – which have a range of up to 50 miles (80km) and are guided by GPS – have been used to destroy key targets, such as ammunition dumps and command centres well behind the frontline.
More recently, the US has supplied Ukraine with GPS guided Excalibur artillery shells – more accurate than so-called dumb ammunition. Precision has made a difference.
THE FUTURE OF WARFARE IN SPACE
The increasing reliance on space raises concerns that conflict could spread beyond land, sea and air.
Russia and China have both conducted tests to destroy their own satellites, and Admiral Tony Radakin, the UK's Chief of the Defence Staff, has recently warned that Russia could carry out attacks on Western targets in space.
Gen Raymond says "there's a full spectrum of threats we're concerned about". He lists GPS and communications jamming, direct energy weapons like lasers, or missiles fired from the ground which could be used to target satellites.
He says the US and its allies want to make sure that there's always safe and responsible behaviour in space – but adds "what worries me is not everybody shares that view".
In reality, the militarisation of space is well under way.
See: Original Article
---