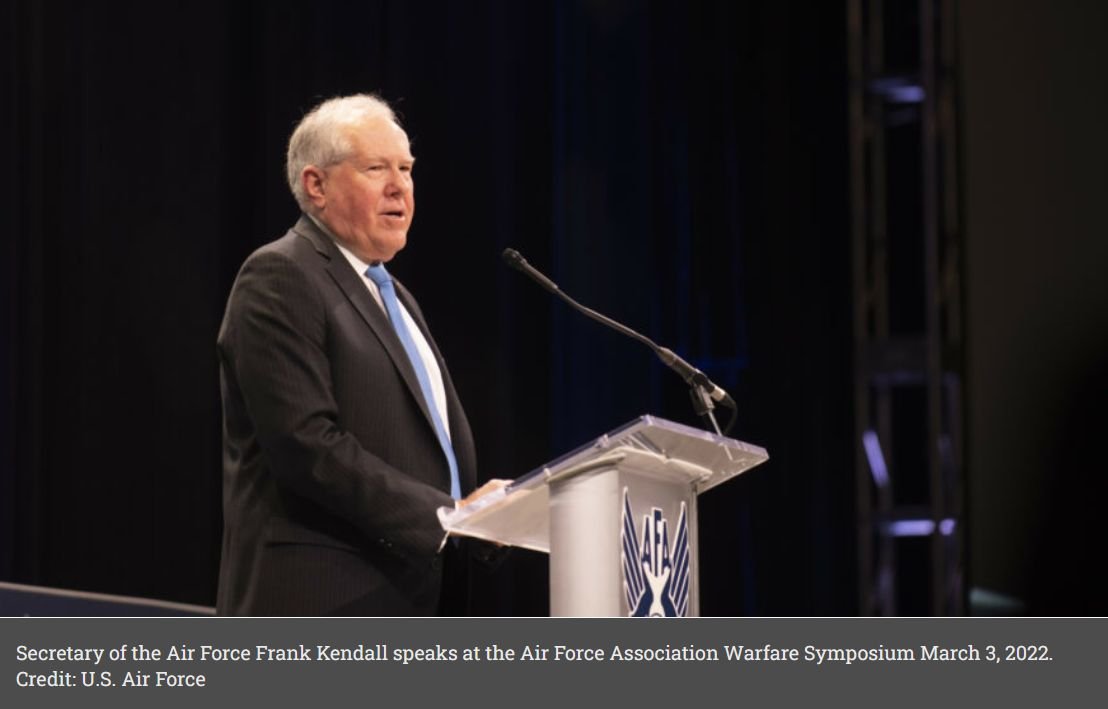 By Theresa Hitchens,
Publisged by Breaking Defense, 1 August 2022
Amid lawmaker concerns about turf tussles, Air Force Secretary Frank Kendall and NRO Director Chris Scoloese have an "informal agreement" to "work cooperatively to address DoD's ISR needs from space."
WASHINGTON: Air Force Secretary Frank Kendall and National Reconnaissance Office Director Chris Scolese have an "informal agreement" to work together to rapidly supply timely intelligence, surveillance and reconnaissance (ISR) information to battlefield commanders — one that Kendall recently revealed for the first time could lead to co-funded projects.
The issue of how to divide Space Force and Intelligence Community (IC) responsibilities for ISR has been a debate ever since the new military service stood up in December 2019. In particular, Congress has been skittish about overlaps and gaps between the space service and NRO, as well as potential IC turf infringement by the Space Force.
Speaking to the Potomac Officers Club on July 26, Kendall noted the "arrangement" with NRO "to get the operational support" the Defense Department needs from space, while at the same time fulfilling the spy satellite agency's other priorities for providing intelligence to the president and senior government leaders.
"We are going to co-fund some things, I think," he said. "We're going to try to meld those two parts together in a way which satisfies both operations and intelligence [needs]. So, that's a work in progress. We've got a ways to go there."
The speech was light on details, but Air Force spokesperson Lt. Col. Frank Hartnett confirmed to Breaking Defense on July 28 that the secretary was indeed talking about what the Space Force calls "tactical" ISR. And that rather than a formal policy, the "arrangement" is an informal one.
"Secretary Kendall referred to an informal agreement he had with the Director of the National Reconnaissance Office, where they agreed to work cooperatively to address DoD's ISR needs from space," he said. "We have an ongoing requirements review led by the Vice Chief of Space Operations, Gen. [DT] Thompson, to document DoD's space-based ISR requirements, and an ongoing Overhead Persistent Surveillance Analysis of Alternatives. Members of the Intelligence Community are participating fully in both efforts, and the results of both will inform final decisions and the way forward in the coming months."
The NRO referred Breaking Defense to Kendall's office on questions regarding his comments, but a spokesperson in a July 28 email noted the cooperative relationship with the Air Force and Space Force.
"The NRO provides spaced-based ISR assets that meet the strategic and tactical requirements of its customers. The NRO currently supports DoD space-based ISR needs through a diversified architecture of government and commercial systems, and stands ready to support its partners as new DoD space-based ISR requirements are identified," the spokesperson said in an email. "NRO's relationships with the USAF and USSF have never been stronger and more cooperative, and we value the confidence they have in us as the world's leader in space-based ISR for more than 60 years."
Meanwhile in the world of tactical ISR, a change could be coming as some aircraft phases out and more satellites go up. As Breaking Defense first reported, the Air Force is looking to bone-yard its remaining RQ-4 Global Hawk reconnaissance drones by 2027. Those Global Hawk Block 40 drones are outfitted with a synthetic aperture radar that sports a ground moving target indicator (GMTI) mode.
The service also long has planned to phase out its E-8C Joint Surveillance Target Attack Radar System (JSTARS) planes. The service wants to retire eight of its 12 JSTARS aircraft in FY23, with the rest of the fleet likely to be divested in subsequent years. The issue, senior Air Force officials argue, is that those aircraft are not survivable against the advanced anti-access/area denial capabilities increasingly being fielded by adversaries, especially Russia and China.
At the same time, the Space Force has launched a classified effort to build an on-orbit GMTI sensor, and further is considering hosting ISR payloads on commercial birds.
Asked if Kendall's plan was to replace the Air Force's ISR capabilities with the Space Force's space-based systems, the department spokesperson didn't directly address the question.
"The Department of Air Force is currently working within the DoD to review all possible options to deliver the best value GMTI solution to the Joint Force. Moving forward it is clear we need a resilient GMTI solution that can survive in contested environments and provide the information advantage needed to support our warfighters," the spokesperson said.
See: Original Article
---