By Eric Berger,
Published by arsTechnica, 5 April 2023
"Once we get our certification, we're allowed to fly as frequently as we want."
A New Zealand-based space company, Dawn Aerospace, said Wednesday it had completed the first three test flights of a rocket-powered spaceplane.
This Mk-II Aurora vehicle measures 4.5 meters long and is powered by a combustion rocket engine fueled by kerosene and hydrogen peroxide. During its initial flights, the vehicle flew to an altitude of about 1,800 meters and reached a maximum speed of about 315 kilometers per hour, the company said.
The test campaign, which is taking place from the Glentanner Aerodrome in New Zealand, will eventually see this vehicle top out at about 20 kilometers. The lessons learned from this plane will be put into a second version of the Mk-II Aurora, which could take flight before the end of this year or early in 2024.
Exploring the upper atmosphere
In an interview, Dawn Aerospace chief executive Stefan Powell said this second vehicle would have a far lighter structure, a more powerful engine, and other features that would allow it to climb far higher. The goal is to fly the spaceplane to an altitude of 100 km, above the internationally recognized boundary of space.
"It's only going to be capable of carrying a few kilograms of payload," he said. "So you're not really launching anything. There's no second stage you can carry with five kilograms. But I do think that what's really unexplored is the suborbital market in this category."
What Powell means is that there is currently no capability to do regular, repeatable research in the atmosphere from about 30 km up to 100 km. With the Mk-II Aurora, the company seeks to be able to fly the vehicle twice a day, offering a platform for applications such as environmental research in the mesosphere and thermosphere.
"Above 30 km is too high for balloons and too low for satellites," he said. "Some researchers refer to it as the ignore-o-sphere. We know it has large implications on climate models and weather models. So there is theorized to be a lot of value in understanding this part of the atmosphere better. So we'll probably just start sticking some pretty basic data gathering payloads onboard just because they don't weigh very much."
The company's goal is to operate its fleet with aircraft-like efficiency—taking off and landing from a runway, using non-exotic fuels, and not requiring significant refurbishment between flights. Vertical launch companies, Powell said, start by building a rocket with a maximum amount of lift capability and work into reusability over time. Dawn seeks to start with a reusable vehicle and build up its capability.
To that end, the Mk-II Aurora vehicle is also a test bed for the larger Mk-III Aurora spaceplane, which aims to deliver an expendable second stage and payload to space. The goal is to eventually be able to launch satellites with a mass of about 250 kg into low-Earth orbit.
Rapid reusability
The Mk-II Aurora takes off under the power of its single rocket engine, which is intended to fire up to an altitude of about 30 or 40 km, after which the vehicle will coast up to about 100 km before reentering Earth's atmosphere. The company is still assessing its options for protecting the spaceplane during the heating of atmospheric reentry, but Powell said his engineering team believes they will be able to use high-temperature composite materials, which is consistent with the company's aim of flying often.
"We're certifying this as an aircraft," Powell said. "So once we get our certification, we're allowed to fly as frequently as we want, provided we stay within the parameters of that certification. You know, we don't go to the regulator every time we want to fly. So that's one massive difference that facilitates rapid reusability."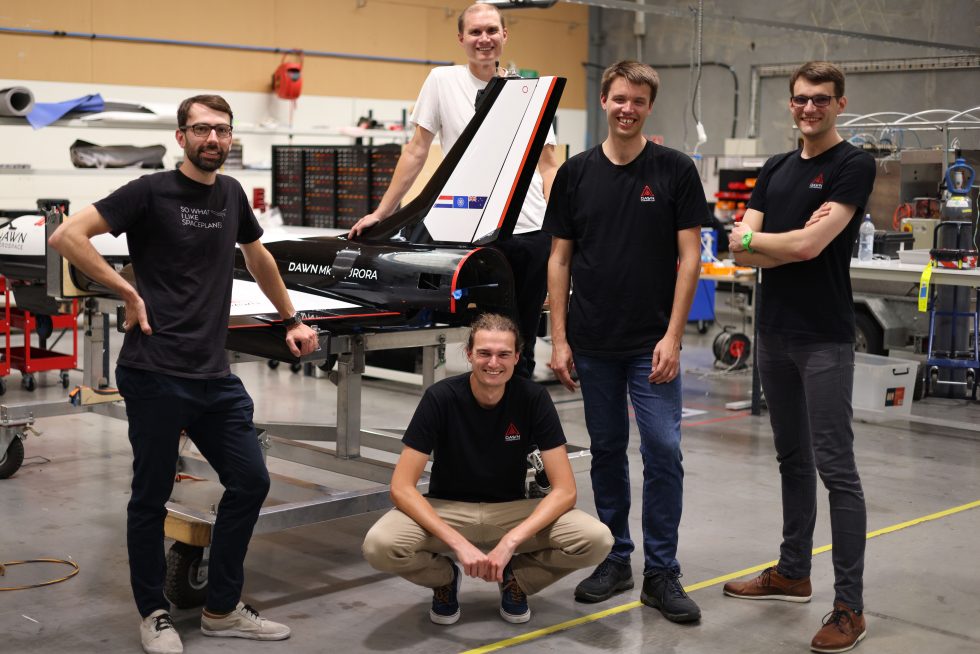 At present, Dawn Aerospace has about 110 employees, with the majority in New Zealand, but also a technical team in the Netherlands. Half of those work on the company's satellite propulsion business, which is profitable, Powell said. The other half work on the spaceplane. To date, the company has announced fundraising of $20 million. Cash flow from the space propulsion side of the business is helping to fund the Aurora vehicles.
"We are burning cash right now," Powell said. "But it's because we're looking to invest quite heavily into the spaceplane side of things. It's actually quite easy to sort of turn that knob down a little bit and just lean on the space propulsion side. So it's really like it's an elective investment."
See: Original Article
---