By Leo Bruce,
Published by NasaSpaceflight, 18 October 2021
In recent months, the United Kingdom's endeavor to tap into a rapidly-growing market of commercial spaceflight has become a firm prospect. To achieve this, spaceports and aerospace companies are clearing major hurdles in order to begin orbital launches as soon as next year — as several projects are vying to provide an unprecedented orbital launch capability from British soil.
Space Hub Sutherland
Sutherland, a planned vertical launch facility on the northern coast of Scotland, had been formally approved last year. However, a series of legal challenges were raised by local landowners.
Last month, the Scottish Land Court ruled in favor of Highlands and Islands Enterprise (HIE), the project leader for the Space Hub, after hearing disputes from landowners opposed to the new launch facility. While there is local support for the Space Hub, the court recognized how the neighboring land around the facility should remain available for agricultural use and will do so in times of launch inactivity.
Space Hub Sutherland cleared for UK Pathfinder launch after the Scottish Land Court gave the green light to the development of the Space Hub in Sutherland.

The court ruled that it was in the public interest for the development to go ahead. pic.twitter.com/UQiCsXNh5x

— Chris Bergin – NSF (@NASASpaceflight) September 14, 2021
The farmers who raised opposition to this land usage case were backed by Anders Holch Povlsen, a Danish-born billionaire who had previously raised objections to the project's application for planning permission, mostly on environmental grounds.
Povlsen is an investor and supporter of another planned vertical launch facility in Scotland, around 300 kilometers away from Sutherland on the island of Unst, part of the Shetland Islands. Whilst the billionaire has been accused of hypocrisy, Povlsen believes that the Shetland launch facility makes "more sense" due to the proposed site being a brownfield with obsolete ex-military buildings to be readily utilized.
With the £17.3 million launch facility now cleared of major legalities in its construction and operation, the complex is set to be built upon the A'Mhoine peninsula on the northern coast of mainland Scotland.
Melness Crofters' Estate (MCE) owns the land in question, and even though this is a committee of crofters (owners and lessors of agricultural land spaces), a majority support the Space Hub. The recent ruling by the Land Court means that crofters can continue to use the land surrounding the facility provided they relocate their livestock when launches are due to take place. The planning permission granted for the spaceport will allow it to carry out up to 12 launches per year.
Economically, Sutherland is regarded as a positive development providing jobs in a remote area that is losing its population and livelihood appeal. Chair of the MCE, Dorothy Pritchard, said this subsequent job creation "will ensure that our community thrives for generations to come."
The Space Hub will include a single launch pad with associated ground equipment, a control center, assembly and processing facilities, offices, and roadways. Highlands and Islands Enterprise expects this infrastructure to cover 13 acres of the 2,400-acre site. The rest of the allotted space will be used to maintain exclusion areas while launches are in progress.
With the Land Court's ruling secured, the construction at Sutherland is expected to begin soon.
Orbex
Scottish aerospace company Orbex will be the first company to launch from Sutherland and is expected to be the site's predominant user once construction is complete.
Founded in 2015 and headquartered in the Scottish town of Forres, Orbex has set its sights on serving the small-satellite market, providing orbital launch services for nanosatellites and CubeSats destined for low Earth orbit. The company has secured over £38 million in public and private funding since its formation, including from the British government, the UK Space Agency (UKSA), and the European Space Agency (ESA).
Over recent years, the company has been developing and testing Prime, the launch vehicle that will enable them to establish a role in the commercial satellite market.
Prime will be a two-stage rocket standing 19 meters tall, with the capability to loft 150 kg of payload into a 500 km Sun-synchronous orbit (SSO). Launching from Sutherland, Prime will be able to reach near-polar orbital inclinations, particularly suiting Earth observation satellites.
Prime will utilize bio-propane fuel from their partnership with Calor Gas and its BioLPG product. The use of subcooled bio-propane is expected to reduce Prime's carbon emissions by 90% compared to rockets powered by fossil hydrocarbon fuels.
Since late 2016, first and second-stage engine tests have been ongoing at Orbex's specialist facilities in the UK and Denmark, verifying their design, 3D-print manufacturing, and compatibility with biofuel. Meanwhile, construction and testing of other components have also been ongoing.
The first hardware for Prime was unveiled in 2019 at the company's Forres headquarters in the form of a second-stage engineering prototype. This included the largest 3D-printed rocket engine ever made – which results in an engine formed of a single piece of material – eliminating weaknesses that could be introduced from joints or welds.
Using lightweight carbon fiber and aluminum composite, the launcher will sport a distinctive black color similar to Rocket Lab's Electron launcher. Orbex has designed the rocket with ease of manufacturing in mind and expects to build tens of vehicles per year by expanding its manufacturing and testing facilities. While the rocket will be expendable, the company has explored the future potential of reusability.
Orbex currently expects to launch its first Prime rocket from Sutherland before the end of 2022, noting that spaceport construction, vehicle readiness, and regulatory issues could result in delays. The company has already secured six launch contracts, with the first flight expected to carry a demonstration payload from UK-based Surrey Satellite Technology Ltd.
In response to the Scottish Land Court ruling, CEO of Orbex, Chris Larmour, said that the company is "all systems go" to launch from Sutherland.
SaxaVord Spaceport
While Space Hub Sutherland experiences a positive outlook on its construction and future, another Scottish vertical launch facility is in pursuit to experience the same.
SaxaVord Spaceport (formerly known as Shetland Space Center) is proposed to be built on Unst, one of the many Shetland Islands off the northern coast of mainland Scotland. Similar to Sutherland, it too is expected to bring economic benefit to a highly remote Scottish region by creating 140 jobs locally and 70 on Shetland. Overall, the Scottish space sector could reach at least £2 billion in economic benefit by the end of the decade.
SaxaVord would be larger than Space Hub Sutherland by proposing to feature three launch pads and associated ground equipment. Other features such as control centers, integration facilities, and a ground station are also planned.
However, unlike Sutherland, the spaceport is yet to receive the all-important planning permission for its construction. Governmentally, the spaceport is expected to be welcomed with open arms in contributing to an evolving UK space sector. The facility also has the financial backing of the aforementioned billionaire, Anders Holch Povlsen.
Local issues will need to be addressed and resolved as part of its planning permission, with the proposed facility already experiencing disapproval from Historic Environment Scotland (HES) due to Unst's history being a Second World War aircraft tracking station. SaxaVord heavily contested HSE's concern.
Although SaxaVord may not yet be in the same advanced position as Sutherland, the spaceport does have an equally exciting future having been chosen as the launch facility for two aerospace companies and, even more notably, for the fact that it is expected to host the first 'UK Pathfinder' launch.
ABL Space Systems and Skyrora
Lockheed Martin had been interested in the Shetland launch site since last year, looking to promote and stimulate a bubbling UK space sector. In February 2021, Lockheed Martin selected California-based ABL Space Systems for the first-ever orbital launch on British soil.
Known as UK Pathfinder, this launch will be hugely significant in kickstarting what hopes to be a continuous venture of British launches.
Together with @SaxaVord_Space, today we welcomed our launch partners, @ablspacesystems alongside our colleagues at @spacegovuk to our Pathfinder launch site, marking exciting progress towards achieving the UK's first vertical satellite launch next year. #WorldSpaceWeek

— Lockheed Martin UK (@LMUKNews) October 7, 2021
Founded in 2017, ABL Space Systems will use its yet-to-fly RS1 rocket to perform the pathfinder launch. Standing 27 meters tall, using two stages, and capable of lofting 1,350 kg to low Earth orbit, the vehicle will carry six CubeSat payloads for the pathfinder mission, two of which are being manufactured by Lockheed Martin.
While this mission hopes to be a first for UK space history, it will likely not be a first for ABL's RS1. The rocket is expected to perform its debut flight from Kodiak, Alaska, by the end of 2021 before UK Pathfinder in 2022.
Most recently, on October 12, a Scottish aerospace company, Skyrora, announced its intention to use SaxaVord for its orbital launch services beginning in 2022. Both Scottish-based Skyrora and Orbex are looking to tap into a similar market, boasting healthy competition among domestic aerospace companies.
SaxaVord and Skyrora's agreement outlines a decade-long use of the Unst facilities to launch Skyrora's XL rocket. Standing 22 meters tall, with three stages, and 315 kg to LEO capability, this orbital rocket will be the company's workhorse in its bid to reap the growing small-satellite market, with hopes to launch from SaxaVord 16 times per year by 2030.
#Skyrora is delighted to announce we've officially signed an LOI to launch our orbital vehicle, #SkyroraXL, from @Saxavord_Space at the end of 2022!

We're excited to champion #EnvironmentalLaunch through this partnership and are optimistic for the future of the #UKSpace sector! pic.twitter.com/VBHZsecFYZ

— Skyrora (@Skyrora_Ltd) October 12, 2021
The company has a notable history in operating small suborbital rockets and testing of the XL vehicle has been ongoing, with a notable third stage test at the end of 2020 which included the company's Orbital Transfer Vehicle (OTV). Being able to relight up to 15 times in space, Skyrora hopes their OTV will be multi-purpose for responsibilities such as being a 'Space Tug,' latching onto defunct satellites to de-orbit them, reducing space debris.
In response to the deal, the Founder and CEO of Skyrora, Volodymyr Levykin said, "We have made no secret of our ambition to be the first company to launch from UK soil, so it's really exciting to agree to this multi-launch deal with SaxaVord."
The company expects XL's debut and the first launch from SaxaVord in late Summer/early Autumn of 2022; it is yet to be seen whether Skyrora or ABL Space Systems will launch first from the new facility.
Horizontal Launch Services
In addition to the vertical launch infrastructure being developed in Scotland, the UK is also looking at horizontal launch options. Newquay Airport in Cornwall has been chosen as the site for one such spaceport, with US-based Virgin Orbit due to launch its LauncherOne rocket from British soil next year. The company's Boeing 747 carrier aircraft will use the spaceport's facilities and runway to prepare for the mission before carrying LauncherOne to its release altitude over the sea.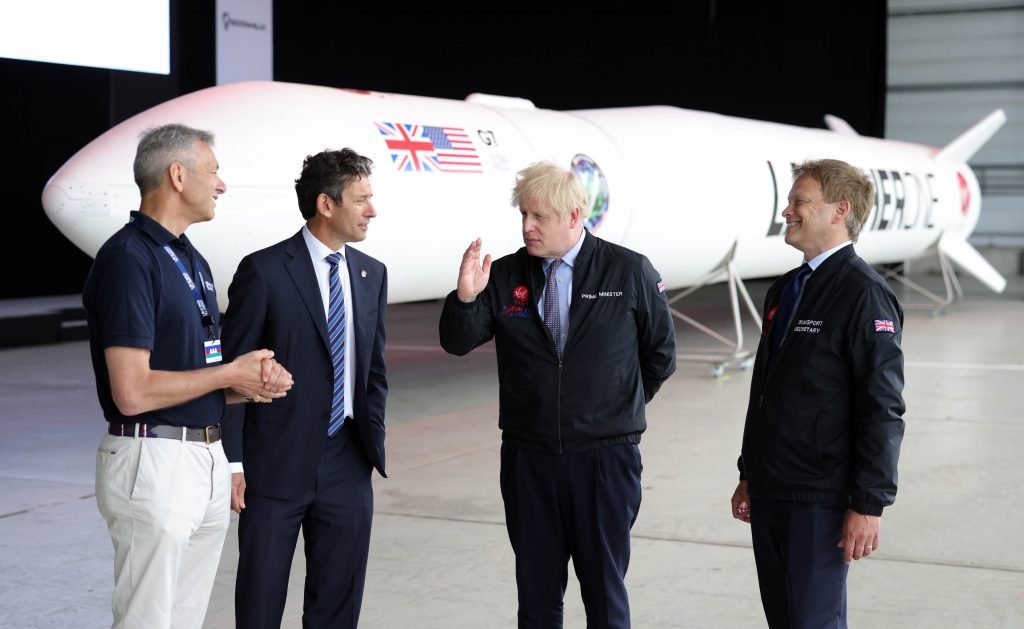 Speaking at the 2021 Wernher von Braun Memorial Symposium, Virgin Orbit's VP of Government Operations, Janice Starzyk, said that LauncherOne's debut from Spaceport Cornwall is scheduled for June 2022 – currently the most ambitious timeline of those hoping to launch next year. Whilst Spaceport Cornwall relies on existing airport infrastructure, the licenses associated with using it for space launch activities are yet to be approved.
In September, the UK Government published its National Space Strategy outlining more proposed horizontal and vertical launch facilities above those already mentioned, including Spaceports Argyll, Prestwick, and Snowdonia, with "centers of space activity" situated throughout the UK.
The United Kingdom has never launched an orbital rocket from home soil. As it stands currently, this could change dramatically next year — with tangible signs pointing toward the UK becoming a major player in the emerging small-satellite launch market.
See: Original Article
---