APRA HARBOR, Guam (Aug. 11, 2021) – An aerial view of U.S. Naval Base Guam shows several vessels moored in Apra Harbor, including vessels from the United Kingdom Carrier Strike Group 21, Aug. 9. The deployment is the U.K.'s first by a carrier strike group in the Indo-Pacific for almost 25 years and marks a historic achievement in the bilateral partnership between the U.S. and U.K. The Arleigh Burke-class guided missile destroyer, USS The Sullivans (DDG-68) is deployed with the strike group, as are F-35B Lightning II Joint Strike Fighters of Marine Fighter Attack Squadron 211, HMS Queen Elizabeth (R08), HMS Kent (F78), HMS Defender (D63), RFA Fort Victoria (A387), RFA Tidespring (A136), Royal Netherlands Navy frigate HNLMS Evertsen (F805). French Ship Dupuy de Lome (A759), USNS Rappahannock (T-AO 204), USNS Salvor (T-ARS 52), USS Jackson (LCS 6), USS America (LHA 6), along with the 31st Marine Expeditionary Unit (MEU), were also in Guam for a scheduled port visit. (U.S. Navy photo by Mass Communication Specialist 3rd Class Naomi Johnson)
By Peter Ong,
Published by Naval News, 29 October 2022
The island of Guam is in the Pacific and is a vital strategic base for U.S. INDO-PACOM operations. The United States' Missile Defense Agency (MDA) is in charge of defending the U.S. and national security interests throughout the globe against enemy ballistic, hypersonic, and cruise missiles. The primary MDA weapon against this threat is the missile interceptor, launched from land or at sea. For many years, analysts, the military, and members of Congress have called for more missile interceptors to be placed on Guam to defend its airbase and naval port from enemy missile attack.
Guam is home to two strategic U.S. bases; Naval Base Guam is homeport to the two U.S. Navy submarine tenders and four U.S. Navy nuclear-powered submarines and supports the U.S. Pacific Fleet forces. Anderson Air Force Base hosts B-1, B-2, or B-52 heavy bomber rotations from the U.S. mainland. (A newer base has been built between the two and shares joint-control). According to the military, "Guam has a population of 153,836 residents (2020 Census) and approximately 21,700 military members (around 1,300 of them are U.S. Marines) and their families."
As technology has matured, so too have the threats against Guam from sophisticated enemy missiles that now have the range and precision to reach the island. The Missile Defense Agency (MDA) is required to counter these missile threats.
"We need to defend it. We need to fight for and fight from Guam."

Combatant Commander, INDO-PACOM
his is a tough challenge with tough requirements, noted VADM Hill of the MDA, as Guam is far away and several times zones distant from the U.S. mainland. Guam also requires 360-degree missile defense coverage all around, so the MDA is going to "move out and meet that requirement," said VADM Hill.
The current form of ballistic missile defense for Guam is the U.S. Army's Theater High Altitude Air Defense (THAAD) system missile launcher on a Heavy Expanded Mobility Tactical Truck (HEMET). While successfully tested, THAAD can only deal with "ballistic-arching trajectory" missile threats in the "heavyweight category" and cannot defend against smaller enemy warplanes or sea-skimming cruise missiles. THAAD is also useless against enemy small unmanned aerial vehicles and drones.
To defend against enemy warplanes, cruise missiles, drones, and hypersonic missiles requires a layered air defense approach that involves other assets in the U.S. military's arsenal, such as the U.S. Army's Patriot and the upcoming Iron Dome Surface to Air Missiles (SAMs), allied warplanes firing air-to-air missiles, Army Stinger missile and laser Short-range Air Defense (SHORAD) systems, and U.S. Navy ships equipped with the AEGIS combat radar system and Standard missiles.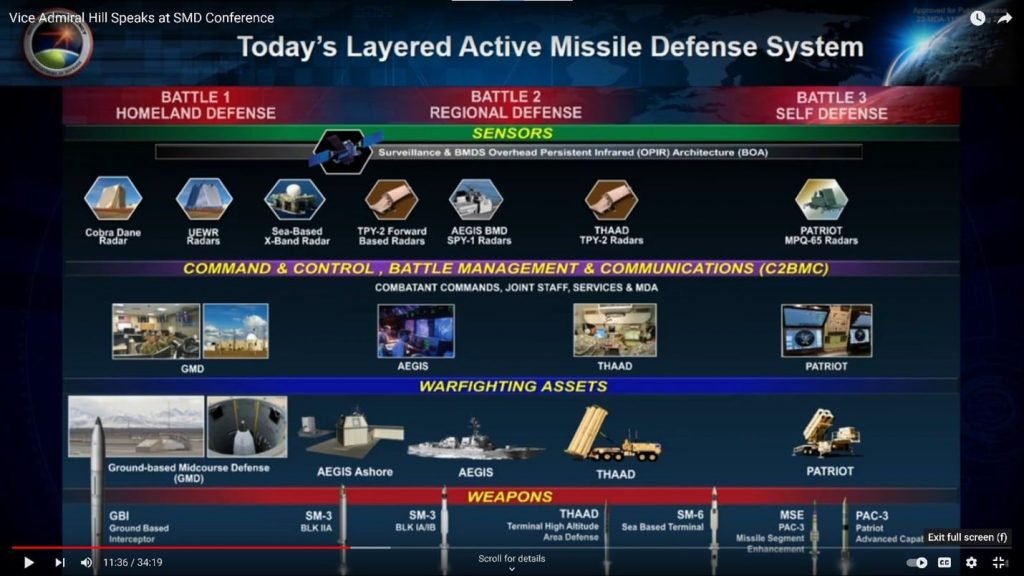 Another potential and more permanent and stationary solution would be to build AEGIS Ashore, a base structure equipped with AEGIS radars and stationary land-based Mark 41 Vertical Launch System (VLS) cells. AEGIS Ashore is not mobile, but it should provide the Command, Control, Computers, Communications and Intelligence (C4I) necessary to conduct Anti-missile defense located right on Guam.
The problem is that Guam does not have any AEGIS Ashore facilities built on the island despite repeated suggestions and pushes by interested parties to establish and construct an AEGIS Ashore. Naval News has covered a possible AEGIS Ashore on Guam in the Center for Strategic and International Studies' (CSIS) webinar in December 2021.The December 2021 Naval News story explains why docking and basing an AEGIS destroyer or a decommissioned Ticonderoga-class AEGIS cruiser is not such a good idea to defend Guam. Furthermore, this 2021 story also explains the family of U.S. ship-launched interceptor missiles.
Fast-forward to the Summer of 2022, and the Missile Defense Agency (MDA) has released a public video called the "25th Space and Missile Defense Symposium: Focus on the Future" presented by Vice Admiral (VADM) Jon Hill, U.S. Navy, Director, Missile Defense Agency (MDA), 11 August 2022. In that video, VADM Hill talks about a plan to defend Guam against missile attack, a plan that was murkier during 2021.
VADM Hill points out the threats in the slide below, noting that enemy missiles today can be fired from a wide variety of land, sea, and air platforms and can take the form of a wide assortment of sizes, types, levels of destruction, and speeds compared to 20 years ago.
From a U.S. Navy's perspective, missile defense involves the AEGIS warships, tasked with intercepting ballistic, hypersonic, supersonic, and cruise missiles. The primary weapon still remains the Standard family of missiles even though hypersonic missile shipboard defense is being developed by the MDA.
"…I get a lot of comments on the defense of Guam…all the interesting ones…why haven't you solved this? Why haven't you solved that? The program hasn't started. It's in PB23 [PB = President's Budget] on the [Capitol] Hill today."

Vice Admiral Jon Hill, U.S. Navy, Director, Missile Defense Agency, August 2022
VADM Hill did say that some work was performed in FY22 such as site selection: Where they can place the sensors, command centers and missile launchers; how they will load the weapons in; and what will be the required infrastructure for Guam coming downstream. "So there's a lot of work in a very small place."
VADM Hill said that Huntsville, Alabama, is slightly larger than Guam so that gives a perspective of the infrastructure constraints for constructing and establishing Guam's missile defense. (The city of Huntsville is 220 square miles in area).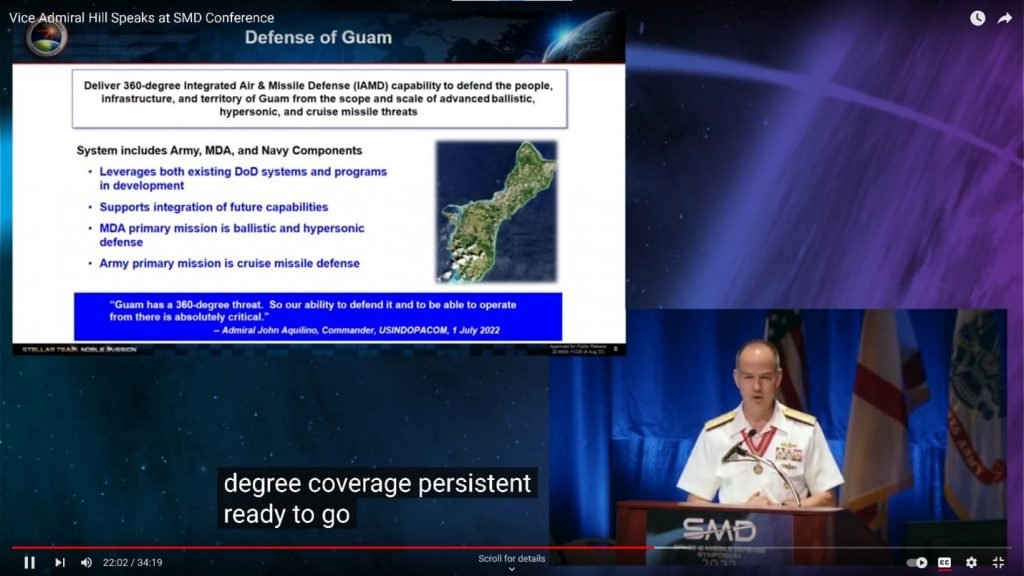 Whatever the MDA decides to allocate to defend Guam from enemy missile attack, one aspect is certain—such a missile defense approach requires 360-degree defense coverage and be persistent—and it will involve joint-force U.S. Army and Navy systems and be networked with "sensors and shooters" to ensure that Guam's missile defense is rapid and capable of defending against current and future enemy missile threats.
See: Original Article
---