Artists John Kippen and Nicola Neate, North Uist residents who oppose the proposed first phase of the spaceport. Photograph: Murdo MacLeod/The Guardian
By Severin Carrell,
Published by The Guardian, 25 July 2023
Project close to bird sanctuaries in Outer Hebrides gets go-ahead after no objections from Scotland's environment agencies
Plans to build a spaceport on the small Hebridean island of North Uist, close to heavily protected bird sanctuaries, have been given the green light despite significant local opposition.
The proposed spaceport at Scolpaig Farm, on the north-west coast of the island in the Outer Hebrides, will host up to 10 launches a year, firing small sub-orbital rockets out over the Atlantic.
They will be fired either side of St Kilda, the archipelago of world heritage site islands west of North Uist. Two exclusion zones 155 miles (250km) long will be imposed on the seas either side of St Kilda during launches. Some will involve launch stages and debris splashing into the sea.
The proposals attracted more than 1,000 objections and vociferous opposition from local fishers. Nearby fishing grounds will be closed during launches, which are expected to coincide with their main summer inshore fishing seasons.
The Western Isles Fishermen's Association said its members, as well as tour boats taking visitors by sea from nearby Leverburgh to St Kilda, had already endured the economic impacts of Brexit, the Covid pandemic and cost of living crisis.
The spaceport proposal is being led by Comhairle nan Eilean Siar, the Western Isles council, which bought the farm for £1m and is developing it with the private military contractor QinetiQ and the space industry firms Rhea Group and Commercial Space Technologies.
Scottish government planning officials waved the project through after none of the government agencies that could have opposed it, such as the conservation agency NatureScot, the Scottish Environment Protection Agency and the Health and Safety Executive, tabled any objections.
The site is surrounded by environmental protection areas to conserve rare and endangered birds including corncrakes, dunlin, ringed plover and redshank, as well as several marine protection areas.
Ecologists said the small scale of the project would pose a negligible risk to local wildlife, but the Royal Society for the Protection of Birds asked for launches to be banned during the breeding season. The council said this was "unreasonable" but added that operators would need to justify launches at those times.
Angus MacNab, the nearest resident to the site and a leading figure in the protest group Friends of Scolpaig, said he was devastated by the news. The group is considering whether it can afford to appeal against the decision in court.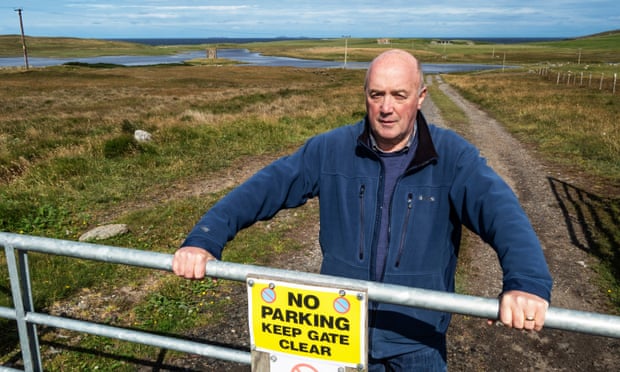 "This is one of the most beautiful vistas in Scotland, and now they're going to build a bloody spaceport in the middle of it," MacNab said.
Nicola Neate, an artist and printmaker involved in the group, said some islanders were already unhappy with the existing missile range on Benbecula but kept quiet. "It does reverberate," she said. "Are they trying to turn this into a military island?"
Once built, it will be Scotland's third spaceport. There are also privately owned launch sites being built at Saxa Vord in the far north of Shetland and on the coast of Sutherland, designed to send satellites into orbit.
See: Original Article
---