By George Dvorsky,
Published by gizmodo, 27 March 2023
Rocket Lab plans to charge $50 million for flights aboard its Neutron rocket, placing it in direct competition with SpaceX's Falcon 9.
SpaceX's partially reusable Falcon 9 is currently in a class by itself, but rival companies are hoping to end the rocket's near-monopolistic hold on the spaceflight industry. One such company is Rocket Lab, with its chief financial officer now taking direct aim at the Elon Musk-owned firm.
Speaking at a Bank of America event on March 21, Rocket Lab CFO Adam Spice said, "We are positioning Neutron to compete directly with the Falcon 9," CNBC reported. The projected cost of flying with Neutron, a fully reusable medium-lift rocket that could perform its first launch next year, is slated at $50 million, Spice said. SpaceX currently charges around $67 million per flight, according to CNBC.
Rocket Lab, an emerging force in the small-launch marketplace, presents an intriguing case for being a true SpaceX competitor. Founded in 2006, the public company has developed cutting-edge 3D-printing technology and now performs multi-continent launches of its Electron rocket. With Neutron, Rocket Lab is eyeing the medium-lift sector; the future rocket, in addition to delivering various payloads, is being positioned as a vehicle for transporting astronauts and cargo to the International Space Station. "I'm certainly impressed with what Rocket Lab has accomplished and what they plan with Neutron," Greg Autry, a professor at Arizona State University's Thunderbird School of Global Management, explained in an email. "If any New Space firm can compete with Falcon 9, it is Rocket Lab." Falcon 9 can lift upwards of 50,000 pounds (22,000 kilograms) to orbit, whereas Neutron is expected to lift around 28,000 pounds (13,000 kg), but even with this difference, Spice says Rocket Lab plans to match SpaceX on a cost-per-pound basis for satellite customers. The company, based in the United States and New Zealand, announced Neutron in 2021, with CEO Peter Beck describing it as a "purpose-built megaconstellation building machine." Similar to SpaceX, Rocket Lab plans to refly the booster between 10 and 20 times, according to CNBC.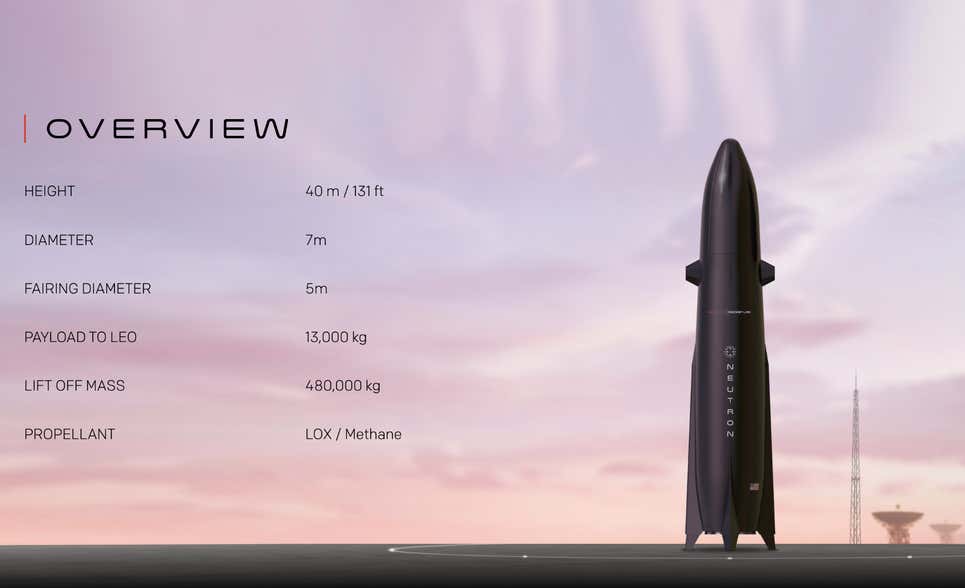 During his talk last week, Spice offered some updates, saying the Neutron's tank structures are now in production and that the rocket's launch pad is under construction, adding that the first hot fire tests of the 3D-printed Archimedes engines could happen by the end of 2023, CNBC reports.
That Neutron could rival Falcon 9 is a distinct possibility, but SpaceX's upcoming Starship megarocket could reshape the spaceflight industry as we know it. Musk is aiming for $1 million per launch of Starship, which represents an astoundingly low price point. Autry says Starship is "probably a lot farther off than advertised," which isn't a surprise, given Musk's track record of over promising, but "he delivers amazing stuff" and his "recent pricing moves at Tesla—particularly in China—suggest he is willing to cut prices to the bone to hold market share," Autry told Gizmodo.
And then there's ULA's Vulcan and Blue Origin's New Glenn to consider, neither of which have launched but, like Starship, are poised to redefine the industry. "Both of these firms are well backed and have deep talent pools," Autry explained. "ULA has as much operational experience as anyone and the best record in the industry. Blue Origin has Jeff Bezos. Even without facing down Elon Musk and the prospect of Starship flattening the entire market, that is a daunting competitor landscape to be entering." No doubt; other bidders in this area include Firefly Aerospace, Relativity Space, and ABL Space.
Pointing to the recent operational pause at Virgin Orbit, Autry said "this can be a brutal market" and that the looming recession, plus high interest rates, aren't producing an environment conducive for speculative ventures to raise funds.
In terms of its other offerings, Rocket Lab is aiming for 15 missions of Electron in 2023 and to establish itself as a "dominant player" in getting small satellites to orbit, Spice said. Beck previously said that Rocket Lab is seeking to create an "end-to-end platform for customers" and that, in addition to launching rockets, the company could custom-build satellites and spacecraft. Indeed, and as CNBC points out, the manufacturing of space-based assets already represents a significant proportion of the company's current revenue stream.
Time will tell if Rocket Lab can directly challenge SpaceX's dominance in the industry, but it's clear that Musk's company will soon face some serious competition. At the same time, SpaceX will continue to innovate and push the envelope of what's possible in its attempt to stay ahead. It's difficult to predict the outcome, but the future of spaceflight will be anything but bland.
See: Original Article
---