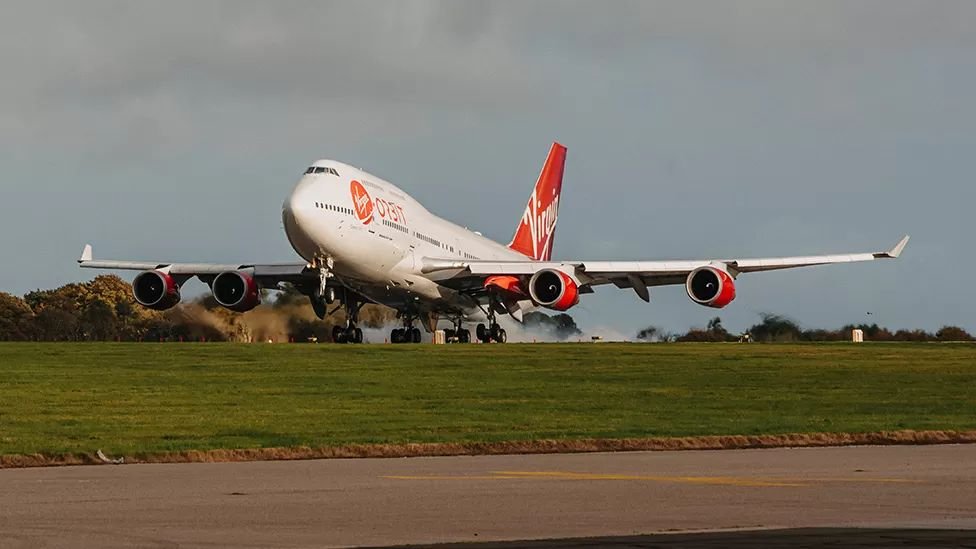 The Cosmic Girl landed in Cornwall on 11 October ahead of its mission in November
Published by the BBC, 31 October 2022
Protesters have demonstrated against the first UK satellite launch, at Newquay Airport in Cornwall.
Members of the Campaign for Nuclear Disarmament (CND) protested alongside Drone Wars UK on Saturday.
They complained over the "billions of pounds" spent on the mission during the cost of living crisis.
The Virgin jumbo, known as Cosmic Girl, arrived in Cornwall earlier this month ahead of the first-ever satellite launch from the UK in November.
Virgin said the launch would help it understand the world and climate.
Kate Hudson, CND general secretary, said space was the "new frontier for military escalation" with "no real public scrutiny or accountability".
"Billions of pounds are being spent on this new arms race which could instead be invested in helping to solve the current cost of living crisis," she said.
The 747 is set to despatch a rocket out over the Atlantic to put nine satellites, including British-built ones, high above Earth.
A Virgin Orbit spokesperson said its mission would positively inform the company about space and the world's climate.
They said: "We at Virgin Orbit believe in the power of space access to make positive impacts on the everyday lives of humans in how it informs understanding of our world and especially our climate.
"We remain committed to our founding mission to open space for good, for everyone, from everywhere."
CND argued that rather than focusing on space expansion, the UK should be "upholding and abiding by" the Outer Space treaty aimed at "preventing national and commercial exploitation of space and the damage that could cause".
Chris Cole, director of campaign group Drone Wars, said the launch would initiate a "new era of military space expansion", marking the UK's joining of a "space arms race" which would lead to instability and conflict.
See: Original Article
---