United Launch Alliance's Atlas 5 rocket, seen here in its "501" configuration without any solid rocket boosters.
By Stephen Clark,
Published by Ars Technica, 7 August 2023
The Kuiper test satellites were supposed to launch on ULA's first Vulcan rocket.
Amazon has confirmed it now plans to launch the first two test satellites for the company's Kuiper broadband network on a United Launch Alliance Atlas V rocket as soon as next month, shifting the payloads off of the inaugural flight of ULA's new Vulcan rocket.
The shift has been rumored for several weeks after ULA delayed the first flight of its Vulcan rocket from the summer until the fourth quarter of the year. The delay will allow time for ULA to beef up the structure of the Vulcan upper stage's liquid hydrogen tank, which sprang a leak that resulted in a destructive fireball on a test stand in March.
The first Vulcan rocket was slated to launch the first two prototype satellites for Amazon's Kuiper constellation, a network of more than 3,200 broadband satellites that the retail and tech giant plans to deploy over the next few years. The Kuiper network is similar to SpaceX's Starlink "mega-constellation," which already has more than 4,000 satellites in orbit.
Amazon delivered the two Kuiper test satellites to Cape Canaveral, Florida, for the Vulcan launch earlier this year, and the spacecraft have been sitting in storage since March, waiting for Vulcan to fly.
The first test flight of ULA's Vulcan rocket, which will replace the company's Atlas and Delta rocket fleets, will also launch a commercial lunar lander for Astrobotic, which has a contract with NASA to deliver science payloads to the surface of the Moon. Astrobotic's lander is also complete, but Astrobotic is waiting to ship it from the company's Pittsburgh headquarters to Florida once ULA signals Vulcan is ready. Advertisement
Amazon's decision to move its first two Kuiper test satellites off of the Vulcan rocket was first disclosed in a ULA filing with the Federal Communications Commission last week for a commercial Atlas V flight that was not previously on the company's launch schedule.
An Amazon spokesperson has confirmed to Ars the company's plan to launch the first two Kuiper satellites on an Atlas V in September, but it declined to confirm whether Amazon still anticipates launching any Kuiper satellites on the debut launch of Vulcan.
Getting to space sooner
The launch of ULA's Atlas V rocket with the Kuiper satellites is scheduled for no earlier than September 26 and fits in ULA's launch queue after an Atlas V mission targeted for the end of this month with a payload for the National Reconnaissance Office and the US Space Force.
The launch slot in September apparently became open after other missions on ULA's launch schedule faced delays due to payload readiness. The first flight of astronauts on Boeing's Starliner crew capsule has been delayed until next year. The Starliner will launch on an Atlas V rocket. And an Atlas V launch with a powerful Internet satellite for Viasat is likely going to be delayed from this fall after a similar Viasat spacecraft encountered problems deploying its antenna in orbit.
ULA can accommodate about one Atlas V launch per month at Cape Canaveral, but the company plans to double its launch capacity over the next few years, thanks in large part to an investment from Amazon.
Last year, Amazon signed the largest commercial launch contract in history, snatching up rides on ULA's new Vulcan rocket, Blue Origin's New Glenn, and Arianespace's Ariane 6 launcher. All told, Amazon has purchased 77 launches: 38 Vulcan launches, plus nine flights on ULA's soon-to-retire Atlas V, 18 Ariane 6 rockets, and 12 New Glenn missions, with a contract option for 15 more.
That will cover Kuiper's launch service needs for its 3,200 satellites. But all those rockets, except for the Atlas V, are still in development. ULA's Vulcan seems like it will be the first of Amazon's crop of launch vehicles to fly, probably followed by the European-built Ariane 6, and then Blue Origin's New Glenn.
Amazon originally intended to use its nine Atlas V missions to deploy operational Kuiper satellites, with several dozen flying on each rocket. Now Amazon will use one of those Atlas Vs to launch just the first two Kuiper test platforms. All of ULA's remaining Atlas V rockets are already sold to customers, so there's no opportunity to build more.
The first two Kuiper test satellites were originally contracted to fly on a new rocket from the startup launch company ABL Space Systems. Last year, Amazon moved the satellites off of ABL's rocket and onto the first Vulcan launch with ULA.
Amazon has not revealed much about the design of its Kuiper satellites other than that they are three-dimensional in shape, not flat-packed for launch like SpaceX's Starlink broadband satellites. Each Kuiper spacecraft likely weighs a few hundred kilograms at launch, so a dedicated Atlas V launch into low-Earth orbit for just two of Amazon's satellites is a bit of overkill.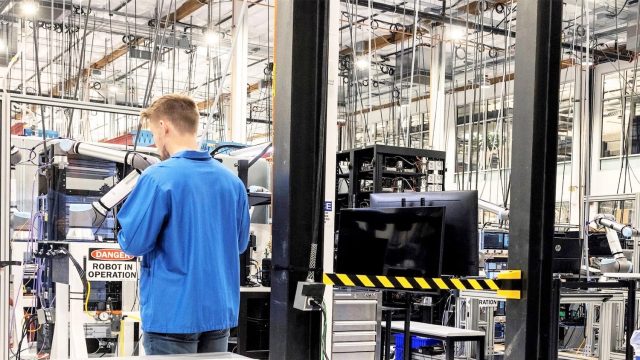 The FCC filings suggest the Atlas V for the first two Kuiper test satellites will fly with a 5.4-meter diameter payload fairing and without any solid rocket boosters—the least powerful version of the Atlas V, but one still capable of hauling more than 8 metric tons to low-Earth orbit. ULA calls this Atlas V variant the "501" configuration. Advertisement
But Amazon apparently thought it was worth expending one of the Atlas V rockets it has under contract, allowing the company to get its satellites into orbit sooner to verify their performance before proceeding into full-scale production of Kuiper spacecraft. Amazon needs to deploy half of its 3,236 satellites by July 2026, a deadline to maintain network authorization from the FCC. That would require at least two launches per month beginning next year—and perhaps more—from Amazon's stable of launch service providers.
"We're charging ahead with our production design that we have," said Steve Metayer, Amazon's vice president of Kuiper production operations, in an interview with Ars last month. "We'll start production of those at the end of this year. This prototype mission will give us knowledge and more confidence, but we're going ahead with production."
Amazon's new factory in Kirkland, Washington, will be able to churn out four satellites per day, according to Metayer. Amazon also unveiled a dedicated new satellite processing facility last month at NASA's Kennedy Space Center, where teams will prepare Kuiper spacecraft for integration with their ULA and Blue Origin rockets.
See: Original Article
---