By Kathryn Armstrong,
Published by the BBC, 26 April 2023
Sweden has got into hot water with Norway after one of its research rockets malfunctioned and landed in its neighbour's territory.
The rocket was launched at 07:20 local time (05:20 GMT) on Monday from the Esrange Space Center, before plunging into a Norwegian mountain range.
The Swedish Space Corporation (SSC), which owns and runs the centre, has apologised and is investigating.
But Norwegian officials say Sweden failed to let them know formally.
"The ministry did not get formal notification, and when an incident like this happens across the border it's important that those responsible immediately inform the Norwegian authorities through proper channels," said foreign ministry spokeswoman Ragnhild Simenstad.
According to the SSC, the rocket reached an altitude of 250km (155 miles) and made it into zero gravity, where it carried out experiments in microgravity into potential carbon-free fuels and creating more efficient solar cells.
But the rocket then landed some 40km north-west of the planned landing site, 15km into Norwegian territory in the far northern area of Malselv. It is described as a mountain range roughly 10km from the closest inhabited area, at an altitude of around 1,000m (3,280ft).
Nobody was injured and no material damage has been reported.
The scientific instrument onboard the rocket, known as the payload, weighs 387kg (853lbs) and has since been recovered in "good condition" and returned to Esrange by helicopter, according to the SSC.
SSC spokesman Philip Ohlsson explained that while the first stage motor of the rocket had landed close to the Esrange base site in Sweden, the second stage motor and the payload had parachuted on to Norwegian territory.
"This is a deviation that we take seriously," said Marko Kohberg from the Esrange Space Center. "It is still too early to speculate about the cause, and we await more information from the current investigation."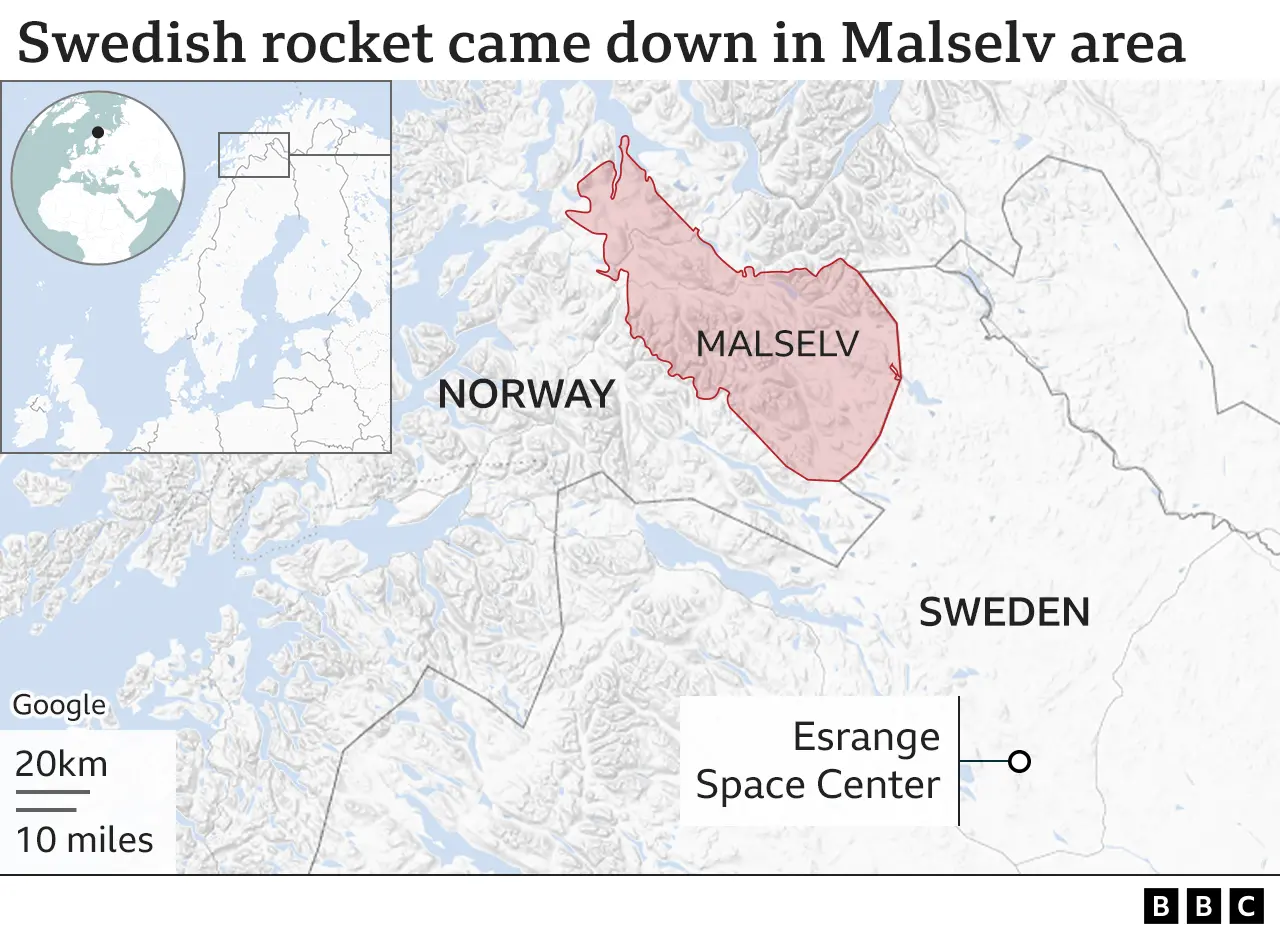 According to Esrange, Norway's armed forces and Swedish authorities were contacted shortly after the incident, and it followed the routines laid out for rocket launches after Monday's flight.
Local authorities in Malselv have told public broadcaster NRK they were told about the incident and asked if a helicopter could be sent to retrieve the rocket.
But Norway's foreign ministry has said it received no formal notification either of the rocket's landing or the recovery of its payload.
"For our part it's important to remember that a rocket and incident like this can contribute to large damage. The fuel might be contaminated and there might be poisonous material. We just want to expect the proper rules are followed," said Ms Simenstad.
The rocket, known as Texus-58, is part of a European programme commissioned by the European Space Agency.
See: Original Article
---