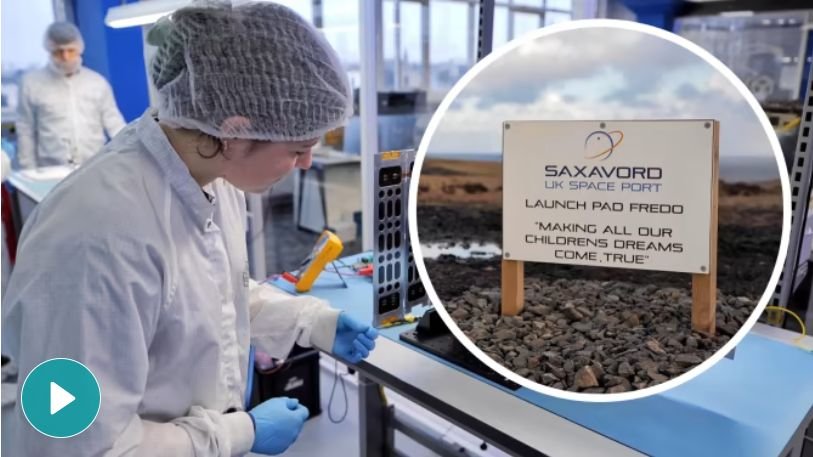 By Louise Scott,
Published by itvx, 25 January 2023
In Shetland, on the shores of the UK's most northerly islands once used by Viking longboats, construction has been completed on the launch facility of a new spaceport.
The rugged and remote landscape of Shetland has long drawn visitors from around the world.
The UK's most northerly islands are steeped in history, part Nordic and part Scottish, and immensely proud of their Viking heritage.
On the same shores where long boats were once launched, Shetland's industrial landscape is about to enter a new stratosphere.
SaxaVord spaceport has completed construction on the first vertical launch stool in mainland Europe, no small feat for an island community.
Shetlander Elizabeth Johnson is project manager and says it will be an amazing feeling when the first rocket is launched.
Elizabeth said: "It's a bit crazy to think a granny is project managing the build of a spaceport, but these are the crazy kind of things that happen up here."
The land is leased to the spaceport by crofters, including Elizabeth's family. She believes her grandfather will be looking down on this spaceport project thinking it is great.
Even in the harsh winters building has continued. The first of the three launch stools was constructed in December having been transported on eleven artic lorries via multiple ferries and island roads.
Elizabeth said: "Logistically it's quite a challenge but it's something in Shetland we're used to dealing with. So we managed to get everything up here and built within the timescales and it all went well."
There's a lot on the line for this spaceport, they could become the first in the UK to successfully launch satellites in to orbit following Virgin Orbit's failure in Cornwall earlier this month.
The horizontal launch by jumbo jet was watched by thousands, but it didn't make orbit following a premature shutdown in the rocket.
Eyes are now turning to Shetland.
SaxaVord CEO Frank Strang said: "Space is all about geography, maths and physics. Our geography allows us to launch into the right trajectories to get to the right orbits economically and efficiently and it means you get the most value for money here. It's all about our location."
The UK space industry is growing quickly, and with growth comes competition.
There are seven proposed launch sites, each vying to the be the first and the best to attract global customers looking to launch satellites in to space.
Alongside Cornwall in the far south, Wales will have one in Snowdonia but Scotland has the lion's share with five.
They are due to be located in Prestwick, Campbeltown, Western Isles, Sutherland and Shetland; the latter three housing the UK's only vertical launch pads.
Matt Archer is the Commercial Space Director at the UK Space Agency. He said: "We are already one of the leading space nations.
"So whilst we're not necessarily conducting the big launches that you see from the United States or Russia or China, I would expect that as we go through the remainder of this decade we should be moving towards a position where we're launching one to two times every month.
"It will become a much more exciting sector and one which people can get involved in and see launches regularly."
See: Original Article
---