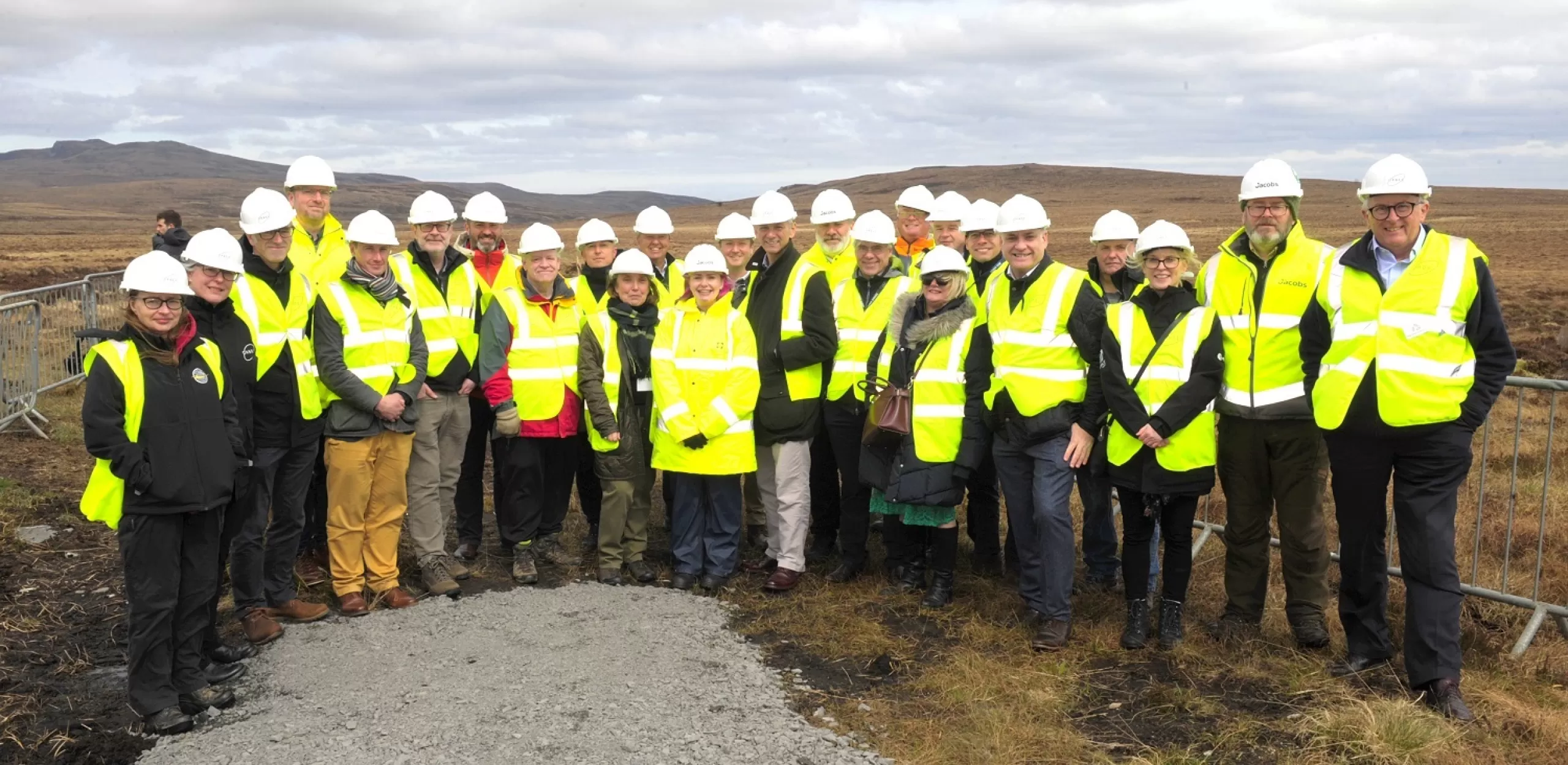 Published by Orbex, 5 May 2023
£14.6 Million Public Investment Package Confirmed for Carbon-Neutral Spaceport Project
Forres, UK, 5th May 2023 – Orbex has announced that construction has begun at Sutherland Spaceport (formerly known as Space Hub Sutherland) in Scotland, making this the first vertical launch spaceport to be built on the UK mainland. Located on the North coast of Scotland, the spaceport will be the 'home' spaceport of Forres-based rocket and launch services company, Orbex, which will use the site to launch up to 12 orbital rockets per year for the deployment of satellites into Earth's orbit.
The groundbreaking ceremony to mark the start of construction was attended by a number of officials and stakeholders including Richard Lochhead, Minister for Small Business, Innovation and Trade for the Scottish Government, Ian Annett, Deputy CEO at the UK Space Agency, David Oxley, Director of Strategic Projects with Highlands and Islands Enterprise, and Dorothy Pritchard, Chair of Melness Crofters Estate as well as many local representatives that have supported the development of the spaceport over the years. Sutherland Spaceport is intended to become the first carbon-neutral spaceport in the world, both in its construction and its operation. One illustration of this is how peat lifted during the construction will be re-used to repair large areas of peatland that have degraded over centuries.
The establishment of a commercial spaceport in Sutherland is expected to support around 250 new employment opportunities in the Highlands and Islands over the coming years, including 40 jobs in Sutherland and Caithness. Economic impact assessments commissioned by Highlands and Islands Enterprise (HIE) conclude that the presence of the spaceport has the potential to generate almost £1 billion in gross value added (GVA) for the Highlands and Islands economy over the next 30 years.
It was also confirmed today that the Nuclear Decommissioning Authority will contribute £3m to support the development of Sutherland Spaceport, completing a public investment package that also includes just over £9m from HIE and the Scottish Government and £2.55m that the UK Space Agency announced in 2018. The NDA chose to support Sutherland Spaceport following the decommissioning of the nearby Dounreay nuclear power station, as part of its remit to retire the UK's oldest nuclear sites while supporting affected communities and the environment.
Orbex recently signed a 50-year sub-lease with HIE, enabling Orbex to direct the construction and assume full operational management of the new facility on the community-owned Melness Crofters Estate. Orbex's role in the spaceport is expected to stimulate significant private investment that will benefit the local community through job creation, supply chain opportunities and other associated economic benefits.
Jacobs, the international professional and technical services company, has been contracted for the construction of the site as well as spaceport operations support, operations consultancy and engineering services, drawing on its experience of managing and operating complex, highly regulated nuclear and space-related sites. Jacobs has supported US space agency NASA across multiple high-profile Space Centers and spaceflight programs, including management of operations at the Kennedy Space Center in Florida. Closer to home, Jacobs has also managed significant aspects of the Dounreay nuclear site on the North Coast of Scotland.
In addition to the short-term contracts for local businesses and contractors that will result from construction, Orbex will be recruiting for skilled local jobs to support the operation of the spaceport. The types of roles will span several areas including facilities and operational management, security, general administration and finance, stakeholder engagement and launch campaign-related roles. Employment opportunities will be advertised locally when recruitment commences.
In May 2022, Orbex revealed its innovative Prime rocket in its final form, the first time a full orbital micro-launcher has been unveiled in Europe. Prime is a 19-metre long, two-stage rocket designed to transport small satellites weighing up to 180kg into Low Earth Orbit. The six rocket engines on the first stage of the rocket will propel the vehicle through the atmosphere to an altitude of around 80km. The single engine on the second stage of the rocket will complete the journey to LEO, allowing the release of its payload of small commercial satellites into Earth's orbit.
Orbex has received widespread interest from commercial satellite manufacturers and has already signed launch contracts with seven customers. The company also recently concluded its Series C funding round, netting the company an additional £40.4 million. Despite a challenging landscape for raising capital, Orbex attracted new investors and brought along many of its existing investors into the new round of funding. The additional funding allows the company to maintain its long-term focus beyond the first launch.
Uniquely, Orbex Prime is powered by a renewable bio-fuel, Futuria Liquid Gas, supplied by Calor UK. This fuel allows the rocket to reduce carbon emissions significantly compared to other similarly sized rockets being developed elsewhere around the world. A study by the University of Exeter showed that a single launch of the Orbex Prime rocket will produce 96 per cent lower carbon emissions than comparable space launch systems using fossil fuels. Prime is also a re-usable rocket which has been engineered to leave zero debris on Earth and in orbit.
In preparation for the first launch, Orbex is performing a wide variety of integration tests, as well as testing launch procedures including rollout, strongback deployment and fuelling procedures. To support the integration testing stage, over the last few months, Orbex has ramped up its recruitment efforts for its Forres headquarters, adding dozens of new team members.
Kristian von Bengtson, Chief Development Officer and Interim CEO, Orbex:
"Sutherland represents a new breed of spaceport, for a new breed of rocket. This is 21st century, agile spaceflight with sustainability at its core. With the construction of Sutherland Spaceport underway, this is an important piece of the puzzle that will make the UK a modern space nation. Just as importantly, we're hopefully also setting the tone for how business can be a force for good, creating jobs and opportunities while minimising the impact upon the environment."
Comments from Partners:
Highlands and Islands Enterprise:
"The start of construction at Sutherland Spaceport is an important milestone for the local community and the UK space sector. The prospect of launch is exciting in itself but for HIE as a development agency, an even greater prize is the economic benefits that this development will bring to our region. We are very pleased to have developed this important and innovative project through its initial phases and greatly appreciate the contributions made by the Nuclear Decommissioning Authority and UK Space Agency. This has been a truly collaborative process and we are delighted to be working with Orbex to make Sutherland Spaceport a reality." – David Oxley, Director of Strategic Projects
Jacobs:
"As an investor in Orbex, Jacobs is deeply committed to supporting this key project which is of immense importance to the UK's fast growing space sector. We are looking forward to fulfilling our role as prime constructor for the spaceport, including design, procurement and management of the local supply chain, as well as providing operations support and engineering services." – Andy White, Vice President
Melness Crofters' Estate:
"We're starting to see the physical representation of a dream that began several years ago. This is our way of regenerating this community and reversing population decline, by giving families a reason to stay or come back to this area. The fact that we're doing this while safeguarding the environment is something we're all very proud of. I want to thank everyone who has contributed to this project, and I can't wait to see the first launch." – Dorothy Pritchard, Chair
Nuclear Decommissioning Authority:
"Supporting this project delivers on our commitment to undertake our decommissioning mission sustainably with care for our communities. This investment will help support the local community to grow and diversify its economy, delivering a positive and long-lasting legacy for future generations." – David Peattie, CEO
Scottish Government:
"It is an incredibly exciting time for the space sector, with the first orbital launch from UK soil expected to take place in Scotland later this year. Despite our relatively small country, Scotland plays a leading role in the space sector and with the global market projected to grow to £490 billion by 2030, we are well placed to become Europe's leading space nation by 2030.
"The space sector already plays an integral part of our daily lives, allowing us to stay connected, predict weather and monitor the effects of climate change. Sutherland Spaceport and Orbex will play a vital role in providing benefits for our people, our economy and our planet.
"I was delighted to be able to visit Sutherland Spaceport for this important milestone. As I told Parliament last week, the Scottish space sector is opening up new frontiers." – Richard Lochhead, Minister for Small Business, Innovation & Trade
UK Space Agency:
"This marks a major step forward for Sutherland Spaceport and demonstrates the UK's growing launch capability and the thriving space sector in Scotland.
"The UK Space Agency has invested £8.5 million in Scottish-based launch technologies through the European Space Agency's Boost! programme, as well as £2.5 million towards the spaceport and £5.5 million for the development of Orbex's Prime rocket, which has catalysed further investment from private and public partners.
"Not only will Sutherland Spaceport unlock 250 new job opportunities and boost the Highlands and Islands economy, but its carbon-neutral ambition underlines the UK's position as a world-leader in sustainable space activities." – Ian Annett, Deputy CEO at the UK Space Agency
Orbex Media Enquiries
Sonus PR for Orbex
Martin Smith
+44 7413 028 935
orbex@sonuspr.com
See: Original Article
---