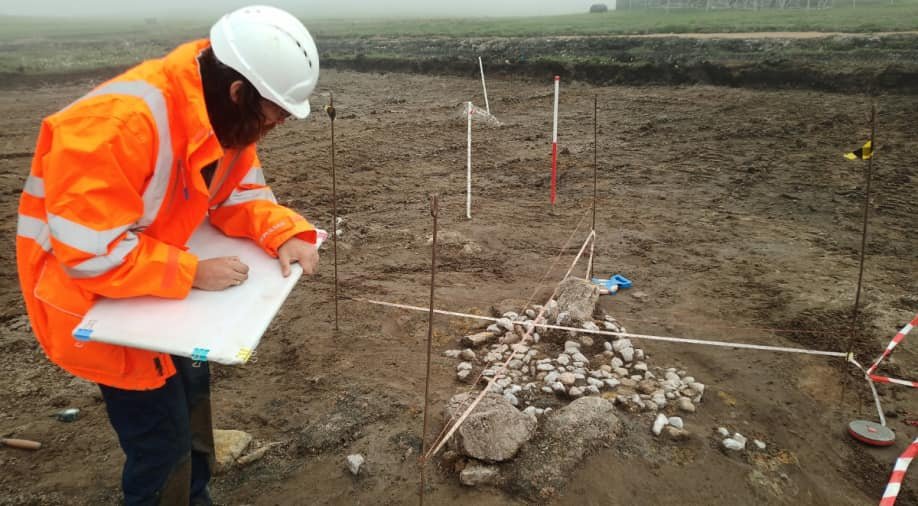 One of the "standout features" of the discovery is the "remains of a quartz setting," said the AOC Archaeology member. (File Photo: @SaxaVord_Space) Photograph:(Twitter)
By Nishtha Badgamia,
Published by Wion News, 30 July 2023
Archaeologists unearthed a 4,000-year-old cemetery in the Shetland Islands in northern Scotland, United Kingdom, last week. The remains of what might be a Bronze Age ritual cremation cemetery were found at Shetland, in the midst of the construction of the UK's first rocket launchpads, or the SaxaVord spaceport.
What was found?
The discovery was made during the groundworks for the rocket launch site on the Lamba Ness peninsula in Unst and features pits and cremated human bones and an arc of buried boulders which might date back between 2200 and 1800 BC, as per reports. 
The site is being assessed by the AOC Archaeology group. Katie O'Connell, from the group, said that they have found several deposits of burnt bone which are "likely" associated with the remains of cremation deposits, according to BBC.
She also spoke about how given the number and the density of cremations it is speculated that the site was a "cremation cemetery that may have been in continuous use over time in prehistory."
One of the "standout features" of the discovery is the "remains of a quartz setting," said the AOC Archaeology member.

"White quartz is often suggested to have had significance in prehistory and is found in association with burial tombs, rock art panels, and deposited carefully at domestic sites," O'Connell said, as quoted by the BBC.
From Bronze Age to Space Age
In an interview, Shetland's regional archaeologist Val Turner told Live Science, "You couldn't see anything at all above the surface."
The alignments of the boulders, pits and the quartz rock setting, also suggest there may have been a ritual complex at the site, said Turner.
She also noted that while the archipelago is home to thousands of archaeological sites, this is the first Bronze Age cremation cemetery and called the discovery "hugely exciting".
Turner also told Live Science, that the scientists have sought to conduct ancient DNA analysis, if possible, in order to determine the number of people buried there and what else can be found about the site itself.
British media reports, citing officials, said that the discovery is not expected to hamper the ongoing work at the site. The SaxaVord spaceport on the Lamba Ness peninsula is scheduled to witness its first rocket launch in October. If successful, it will become the first vertical rocket launched from anywhere in the UK.
SaxaVord Spaceport plans to build three commercial launch pads and a ground station at the site but is now reportedly considering preserving the ancient cemetery.
"This is a tremendously exciting discovery and we will be supporting further study of the remains to find out the full story," said SaxaVord spaceport chief executive Frank Strang, last week.
He added, "With Unst's Viking heritage, we had always thought of the timespan from the longship to the spaceship. Now we know there has been activity on our site for more than 4,000 years it's the Bronze Age to the Space Age."
See: Original Article
---