GN space issues webinar video: Dangers of WW3 & Space War
Speakers:

* Dr. Dave Webb (UK) Overview of current space warfare system
* Agneta Norberg (Sweden) Sweden: A platform for US war on Russia
* Koohan PaikMander (Hawaii) Clash of Paradigms: Pacific Peoples vs. Pentagon Robots
* Subrata Ghoshroy (Boston) From ANZUS to Quad, US policy to contain China
* Tamara Lorincz (Canada) With the Militarization of Space by NATO and NORAD, What Are the Possibilities for Peace in Space?
* Bruce Gagnon (Maine) Moderator
---
16 October – Menwith Hill, England
A Keep Space for Peace Week workshop on the US Spy Base at Menwith Hill in North Yorkshire. This was the public activity event of this year's Campaign for Nuclear Disarmant Conference. The workhop was hed in the Otley Court House and involved presentations from Yorkshire CND, the Menwith Hill Accountability Campaign as well as talks about the other US bases in the UK with links to Menwith Hill (e.g. Croughton and Lakenheath).
The workshop was followed by a visit to the base and a discussion on taking the campaign forward.
---
14-16 October – Hyderabad, India
The main objective of this Conference is to utilise this platform to discuss the contemporary issues and challenges in outer space pertinent to warfare with an analysis based on legal, political, economic as well as the scientific aspect in order to ensure peace and security in the international sphere.

Taking note of the existing warfare in various parts of the world, ICFAI is bringing together researchers, students, academicians, lawyers and professionals from the various legal and scientific fields to share their expertise, experience and wisdom, enabling them to provide insights in their respective fields yielding maximum discussion of conference topic under both legal and technical fronts. We are looking forward to maximum participation, thorough research and a refined writeup. After thorough review, the best articles will be out for publication as a book with ISBN reference.

GN speakers to include Dave Webb, Kate Kheel and Bruce Gagnon
---
15 October – Jeju Island, South Korea
from Sung-Hee Choi
At the recently opened the National Satellite Integrated Operation Center.
The 40th IADC (Inter Agency Space Debris Coordination Committee) Meeting was meeting here from 10-14 October. There was no prior news until the opening day. And there is little English news on it as I glimpsed yesterday.
In the IADC, the participants include Canada, China, ESA, Germany, France, India, Italy, Japan, South Korea, Russia, UK, Ukraine, United States, The delegates include NASA, JAXA, ESA etc. South Korea takes the role of chairman in this year's meeting.
South Korean news said that the main issue is on the low earth orbit constellation satellite project like the Starlink which could be related to the recent US FCC announcement on the mission-ending satellite disposal.
Washington is drawing Seoul into the US military space program.
---
9 October 2022 – Fylingdales, England
A blustery day for a Yorkshire CND visit to powerful missile defence radar at Fylingdales in North Yorkshire.
Fylingdales is a part of the US NMD system and also a deep space tracking radar for the US programme to monitor all space activities.
---
9 October 2022 – High North
Video by Stopp on NATO militarization of the High North (click on 'CC' for English subtitles)
---
7 October 2022 – India
Visakhapatnam – from Prabhakar Jalluri
A Great Finish on 6th Day with 500 Trainees engineers at 50 years old college at Visakhapatnam. Engineers lecturers addressed to wage a war for Peace and Environment.
Around 100 young Engineering students participated in this program. Condemned the NATO Expansion to Sky and the supporting of Ukraine government with Supply of war Material.
Many lecturers participated in this Program.
---
7 October – South Korea
from Sung-Hee Choi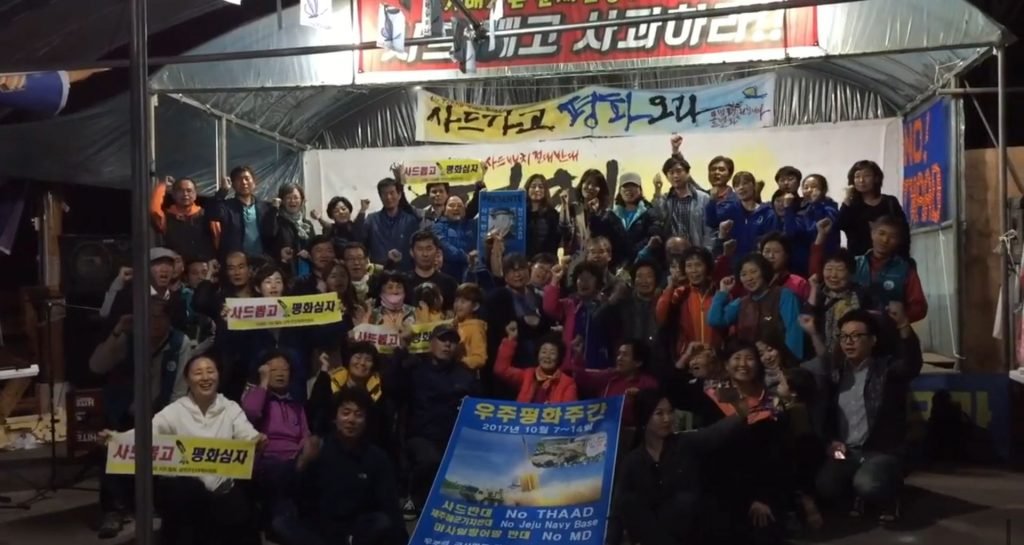 People gathered in Soseong-ri for song contest event and took a photo/ video together with the banners of Keep Space for Peace Week and deceased Cho Youngsam(who immolated on Sept. 19 in opposition to THAAD)
We shouted slogan, "Pull Out the THAAD and plant the Peace!" It was after People's song contest which followed a 20 min presentation on the relation between the No THAAD campaign and Keep Space for Peace Week.
10월 7일 소성리 마을회관 앞. 이 날은 우주평화주간 (10월 7-14) 첫 날이자 전 세계 군사기지 반대 행동의 날 첫 해를 맞는 날입니다. 20 분간 사드 반대와 우주평화와의 연관에 관련된 프리젠테이션, 그리고 신나는 노래 자랑 등 모든 행사를 마치고 함께 사진을 찍었습니다. (동영상: 행사 참가자)
---
7 October 2022 – Aotearoa New Zealand
MBIE is currently seeking feedback on their draft Aerospace Strategy, which has several problematic gaps as outlined below. The deadline for submissions is Wednesday, 12 October – please note, this is different from the space policy review, which MBIE is currently running public meetings on and which has a submission deadline of 31 October (see details at https://www.facebook.com/PeaceMovementAotearoa/posts/5451681141545877).
The 'Developing the Aotearoa New Zealand Aerospace Strategy' consultation document seeks feedback on the content of five areas: Overview of the Aerospace Strategy; A strategy for building our aerospace sector; Building strong foundations (Three Pillars); Goals for the 2030 Future State; and Pathway to the 2030 Future State.
While there are multiple references throughout the document to economic development, economic benefits, "productivity" and "the global aerospace economy", there is not a single reference to three crucial areas that must be the basis for the developing NZ aerospace industry:
i) Peaceful uses of space: there is no reference to NZ's commitment to peaceful uses of space, both generally as a member of the international community and specifically as a member of the Committee on the Peaceful Uses of Outer Space since 2016. The Committee was established in 1959 "to govern the exploration and use of space for the benefit of all humanity: for peace, security and development" and to promote "international cooperation in the peaceful uses of outer space".
ii) Disarmament obligations: there is no reference at all to NZ's domestic or international disarmament obligations, which is a particular concern with regard to prohibited weapons, including nuclear, biological and chemical weapons, as well as cluster munitions and other weapon systems with inhumane and indiscriminate effects that are prohibited by NZ law. Related to this, there is no reference in the draft Strategy to NZ's obligations under humanitarian and human rights law.
iii) Disarmament policy: there is no reference to NZ's disarmament policy, which includes both a commitment "to show leadership in the development of new rules, norms and standards around the use of outer space", and a commitment to "new international law to ban and regulate autonomous weapons systems" (also known as killer robots) – this is particularly pertinent to this Strategy given the references to "autonomous aerial vehicles", to "safely integrate all forms of autonomous aerial vehicles" and, disturbingly, "significant work has already been undertaken to establish New Zealand's leadership in this area, which we will progress further for 2030".
It is absolutely crucial that the new Aerospace Strategy includes meaningful references to each of these areas to ensure that aerospace companies based in Aotearoa do not develop – or contribute to the development of – any technologies, aircraft or spacecraft that are contrary to any of NZ's obligations and commitments to ensure that space is only used for peaceful purposes.
How to make a submission: the 'Developing the Aotearoa New Zealand Aerospace Strategy' document and a downloadable Submission form are available at https://www.mbie.govt.nz/…/aotearoa-new-zealand…/
---
7 October 2022 – Beale AFB, USA
Morning vigil at Beale AFB (northern California) gate as GI's come to work (Oct 4). The base flies U-2 spy planes and has a space war-fighting radar facility. This group has protested at this base regularly for years – often arrested for stepping beyond the 'white line'.
---
5 October 2022 – Kakinada City, India
From Prabhakar
200 km away from Visakhapatnam we had lecture in Kakinada city. Working class Enlightened the Effects of space, war of on all walks of life. Citing the example of Russia Ukraine war supported by NATO.
Oil and gas prices sky rocked in all countries which ultimately led in to inflation.
The Living conditions worsen for the working class after covid.
Around 50 members participated. We are trying to Expand our base to different Cross sections.
---
4 October 2022 – Satya Technical Training institute in Vijayayanagaram, India
From Prabhakar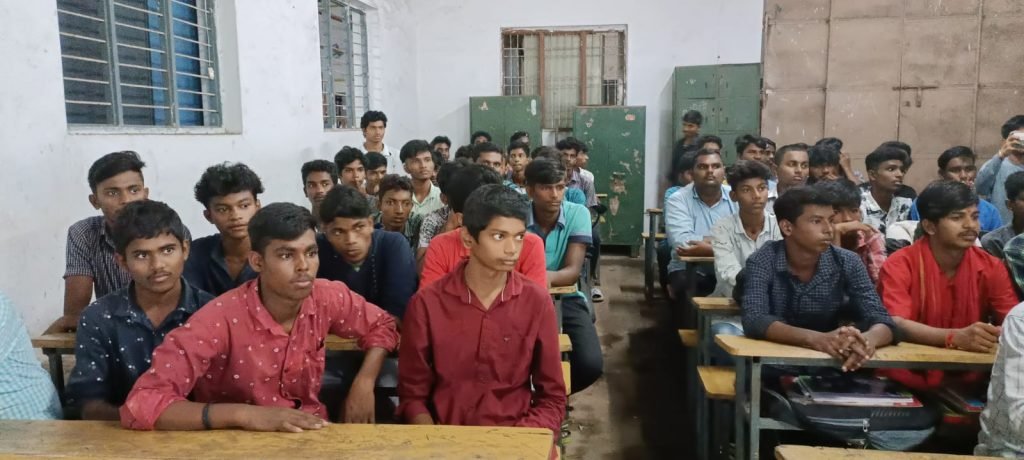 50 students sensitized on space, wars and its adverse effects on Education, Employment and Environment.
---
3 October 2022 – Peace vigil, Washington DC
---