No Weapons in Space!
No Nuclear Rocket!
End the War in Iraq!
Keep Space for Peace!
Fund Human Needs!
Sponsors:
Global Network Against Weapons & Nuclear Power in Space http://www.space4peace.org
Women's Int'l League for Peace & Freedom http://www.wilpf.org
(WILPF information leaflet on "Keep Space for Peace Week" available as 30KB Word document - here)
Posters | Planned Actions | Speakers | Entertainers | Reports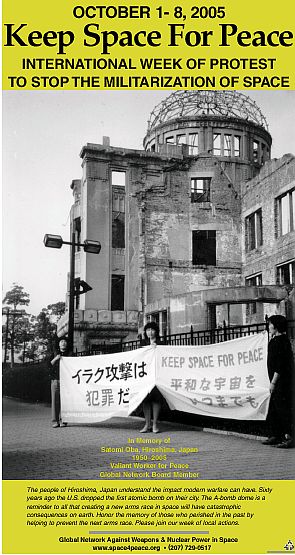 (download poster - 648 KB pdf file)
See also: Poster Sales
(download leaflet - 153 KB pdf file)
---
Actions | Speakers | Entertainers
---
Albuquerque, NM (Oct 21-23 Anti-War Summit) stopthewarmachine@Comcast.net
Anacortes, WA (Vigil TBA) cpellett@cablerocket.com
Ashland, OR (Oct 8, 7pm Comedy "Oh My Goddess!" at Mobius, 281 4th St) lmrich@mind.net
Baltimore, MD (Oct 8 Meet at AFSC at 11am to carpool to NSA/Fort Mead) Max MObuszewski@afsc.org
Bath Iron Works, Bath, ME (Oct 8 Vigil) gmjko@yahoo.com
Blue Mounds, WI (Oct 3 Meeting at Rev. Jeff Billerbeck's home) jbillerbeck@meriter.com
Bombay, INDIA (Talks TBA) leorebello@vsnl.com
Boston, MA (Area vigils and Oct 6 Video showing at Boston Public Library by WILPF, details TBA) clagos@verizon.net
Boulder, CO (Oct 11 luncheon on Space Security) joe_bock@comcast.net
Bucharest, Romania (Oct 8 Leafletting about space issues) aungiira@yahoo.com
Buckley AFB, Aurora, CO (Oct 1 Demo) Bill Sulzman bsulzman@juno.com download flyer (574 KB PDF file)
Canton, CT (Oct. 1 Friedman home during Solar Home Tour) Judith Friedman
Cardiff, Wales (Oct 5 Public Meeting on Space) daveknight@gn.apc.org
Catonsville, MD (Oct 1 Space Video Showing) Phyllis Yingling psyingling@aol.com
Cleveland, OH (Oct 6 viewing of Arsenal of Hypocrisy at Friends Meeting House) donald.mcpherson@earthlink.net
Colorado Springs, CO (Oct 8 Statewide demo at UCCS campus) Bill Sulzman bsulzman@juno.com
download flyer (574 KB PDF file)
Coventry, England (Oct 3 Public Meeting on Space) daveknight@gn.apc.org
Darmstadt, GERMANY (Leafleting TBA) regina.hagen@jugendstil.da.shuttle.de
Doylestown, PA (Oct.1 Vigil Main St & State St 4-8pm) Gretchen Ney Laugier
Florence, OR (Oct 8 Space Video Showing at library followed by beach ceremony) 7billo@charter.net
Ft Greely, AK, (Sept 24-26 No Nukes North Annual Peace Camp and Demonstration Sept 25) http://www.nonukesnorth.net/
Ft. Wayne, IN (Oct 1 noon Vigil on Allen County Courthouse Green) Tom Tiernon
Glasgow, Scotland (Oct 7 Public Meeting on Space) daveknight@gn.apc.org
Ithaca, NY (TBA Space Video showings) Linda Holzbaur ljholzbaur@yahoo.com
Jacksonville, FL (TBA Video Showings) djmarlin@bellsouth.net
Kennedy Space Center, FL (Vigil TBA) fcpj@earthlink.net
Leeds, West Yorkshire, UK (Oct 1 Internat'l Conference "Space Security- Knocking on Heaven's Door" with Bruce Gagnon, Stacy Fritz, Dennis Apel) http://www.yorkshirecnd.org.uk/ or d.webb@leedsmet.ac.uk
Leicester, England, (Oct 8 US Joint Analysis Centre Molesworth demonstration, leave Leicester at 1pm) acheetham@beeb.net
London, England (Oct 4 Afternoon meeting in Parliament for MPs & Researchers) daveknight@gn.apc.org
London, England (Oct 4 Evening Public Meeting on Space at Friends Meeting House, Euston Rd.) sophiakselby@yahoo.co.uk
Lyndon State College, Lyndonville, VT (TBA) amanda.ruckdeschel@lsc.usc.edu
Manchester, England (Oct 6 Public Meeting on Space) daveknight@gn.apc.org
Maplewood, NJ (Oct 9 11am Speaker Frida Berrigan) bob@benderworld.com
Menwith Hill, UK (Oct 8) NSA Spy Base Demonstration, http://www.caab.org.uk/ or caab@btclick.com
Miramar, FL (Oct 8 Video/Potluck) arlynepeace@cs.com
Nagpur, INDIA (Educational programs in colleges) jnrao36@sify.com
Naples, FL (Oct 7 Video Luncheon) arlynepeace@cs.com
New York City (Oct 1 9:00 pm Concert at 22-Below Cabaret) joellandy@yahoo.com or http://www.singfreedom.org/
Newton, MA (Oct 6 Space Video showing at Grace Episcopal Church by WILPF) clagos@verizon.net
Newtown, PA (Oct. 1 Bucks County Courthouse Vigil) Gretchen Ney Laugier
Portland, OR (Sept. 25 & Oct 4 Vigils Downtown) curner@qwest.net
Rochester, VT (Oct. 6 Inner Harmony Wellness Center) Marion Leonard
Regina, SK Canada (Oct 2, 2pm Film/Discussion at Regina Public Library @ Southland Mall) moore13s@uregina.ca
Santa Rosa, CA (Oct 11 Meeting - see event poster 112KB PDF file) contact Lynda Williams: 707-527-4680
Schriever AFB, CO (Oct 2-7 Bannering, various locations) Bill Sulzman bsulzman@juno.com download flyer (574 KB PDF file)
Stennis Space Center, MS (Oct 7 Vigil) jeanegan@Tulane.edu
Stockholm, Sweden (Oct 2 Lectures/Discussion) agneta.norberg@spray.se
Tokyo, Japan (Oct 15 6pm Community Center of Bunkyo Ward Video/Lecture) Mr. Koji Sugihara kojis@agate.plala.or.jp
Toledo, OH (Oct 1-8 Daily Vigil in Levis Square) rkmarovitz@hotmail.com
Traverse City, MI (Oct 1 @ 7:30p, Oct 9 @ 3p, Oct 13@9:30p TCTV Channel 2 presents Arsenal of Hypocrisy) Carol Still ipjn.1@juno.com
Tucson, AZ (Oct 7 Video showing at First Christian Church) birnie@gainusa.com
Vandenberg Air Force Base, CA (Oct 8 Main Gate Protest) mindful@redshift.com - download flyer (31KB PDF file), details from www.vpeaceldf.org or mindful@redshift.com or call 831 206 5043
Windham, ME (Space video shown on cable TV during week) sallybreen@msn.com
---
Please contact these people directly to negotiate speaking dates, travel expenses, etc. during the week of local actions. They all have considerable expertise on the space issue.
Robert Anderson (Professor American Studies, Univ. of N.M., Albuquerque, N.M.) (505) 858-0882 citizen@comcast.net
Frida Berrigan (World Policy Institute, New York) (212) 229-5808 ext. 112 berrigaf@newschool.edu
Jackie Cabasso (Western States Legal Foundation, Oakland, CA) wslf@earthlink.net (510) 839-5877
Helen Caldicott (President, Nuclear Policy Research Institute) HCaldic@bigpond.com
Michelle Ciarrocca (World Policy Institute) (212) 229-5808 ext. 107 CiarrM01@newschool.edu
Craig Eisendrath , Ph.D. (Senior Fellow Center for International Policy, Philadelphia, PA) (215) 413-1461 creisen@aol.com
Stacey Fritz (No Nukes North, Alaska) (907) 457-5230 info@nonukesnorth.net
Bruce Gagnon (Global Network) (207) 729-0517 globalnet@mindspring.com
Joseph Gerson (AFSC, Cambridge, MA) (617) 661-6130
Jacob Grech (OzPeace, Melbourne, Australia) jacob@ozpeace.net
Regina Hagen (INESAP, Darmstadt, Germany) regina.hagen@jugendstil.da.shuttle.de
William Hartung (World Policy Institute, New York) (212) 229-5808
hartung@newschool.edu
Dave Knight (GN Advisory Committee Chair, UK) daveknight@gn.apc.org
Dominique Lalanne (Abolition 2000, Paris, France) lalanne@lal.in2p3.fr
Andy Lichterman (Western States Legal Foundation, Oakland, CA) (510) 839-5877 webmaster@wslfweb.org
Dr. Hannah Middleton (Australian Anti-Bases Campaign Coalition, Sydney) peace@mira.net
Satomi Oba (Plutonium Action, Hiroshima, Japan) dogwood@muc.biglobe.ne.jp
Geov Parrish (Author, activist, Seattle, WA) 206-324-5369
Lindis Percy (Campaign for the Accountability of American Bases, Otley, England) percy@lindisandchris.freeserve.co.uk
Sri Raman (Movement Against Nuclear Weapons, India) sriraman_j@yahoo.com
Alice Slater (Global Resource Action Center for the Environment, New York City) (212) 726-9161 www.gracelinks.org
Bob Smith (Brandywine Peace Community, Swarthmore, PA) (610) 544-1818 brandywine@juno.com
Mary Beth Sullivan (Maine WILPF) (207) 729-0517 mbsull@mindspring.com
Bill Sulzman (Citizens for Peace in Space, Colorado) (719) 389-0644 bsulzman@juno.com
Dave Webb (Praxis Centre, Yorkshire CND, England) dave@webbjeff.free-online.co.uk
Don Whitmore (Seattle, WA) mail@abolishnukes.com
Loring Wirbel (Citizens for Peace in Space, Colorado) LWirbel@aol.com (719) 481-3698
---
ENTERTAINERS
(These fine singers/songwriters have space songs and other good political music)
---